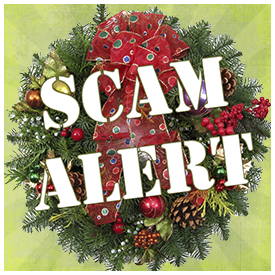 Tis the season for scoundrels and cheats to take advantage of innocent victims and Historic City News wants to be certain that our readers are aware of some of their most common scams.  Many of the tricks that are played out today over the Internet, are merely adaptations of cons that have been run for many years.
In addition to the obvious risk to your personal safety when you agree to meet someone you do not know for the purpose of exchanging cash, you may not have considered the financial risks that accompany sharing personally identifiable information such as your credit or checking account number, your name, address, or telephone number; yet people do it all the time.
Non-Existent Vehicles
All categories of vehicles can be affected: cars, motorcycles, boats, power-sports, and more.
Typically, scammers will copy real ads for real vehicles and reduce the price offered.
Often, the seller will claim they had to move out of the area, go out of town, currently live overseas or give another excuse as to why you cannot see the vehicle in person.
The seller will create a sense of urgency to pressure you into deciding, and parting with your money, fast.
Money for the vehicle will be requested and arrangements for the vehicle to be shipped will be made, but the vehicle will never arrive.
In an attempt to quiet your apprehension, the seller may pretend to use a protection program but can fake the email addresses and logos of other companies.
Bad Buyers
Bad buyers will ask if you would be willing to ship your item overseas, possibly as a gift for someone studying abroad or for a client.
At best, you will ship your item and not receive any money.
They might send you a check for more money than you asked for, then ask you to send them a refund for the overpayment.
The check is fake and your bank will bounce it in a few weeks. You will be out the money, the item for sale and incur charges for a returned check.
Home-Based Jobs
They will give you a work-from-home job.
They will provide you with a (fake) check so you can furnish your home office. They will then ask you to send money to various equipment providers.
The equipment will never arrive and your bank will bounce the check after a few weeks. Some people have lost $1000's this way.
Faux Rentals
An apartment advertised that is very cheap and full of amenities.
Typically, the ad will be for a legitimate apartment — but will have a substantially discounted price.
The con will ask you to send money for your first month and last month's rent as a deposit and for mailing you the keys. The keys will never arrive.
Fraudulent Renters
A "potential" renter will tell you how interested they are in renting or sub-letting your apartment, but that they are overseas or out of town for an extended period of time. (Examples: models from London, professors from overseas, etc.).
They will offer to send you a check for rent and deposit as soon as possible. They will then make up an excuse and ask for some or all of the money to be sent back.
The check is fake and your bank will bounce it in a few weeks.
Electronics Scams
Ads for unlocked expensive phones, brand-new brand-name electronics.
Generally, they will take your money and never send the product to you.
Our advice is to only buy electronics in person, or from someone you know. Don't purchase from someone that has a variety of items for sale and is dealing through an email address or chat. Simply because they have a professional-looking website does not make them a legitimate seller.
Secondhand Items & Yard Sales
If you are a host or a customer of a yard sale (and this applies to online classifieds), be sure to understand the law concerning selling secondhand items. It is both illegal and very dangerous to sell recalled items, so stay informed and aware.
All it takes is a little research:
CPSC.gov is a great resource for finding recalled items, allowing you to search by product type, company name, and possible hazards, among other things.
Recalls.com has a comprehensive list of Consumer Product Safety Commission recalls, along with five other federal agencies' recall lists.
With the total amount of consumer product recalls increasing every year (the top items being toys, cribs, electric blowers, cosmetic accessories bags, and window blinds) it is paramount to stay mindful of potential hazards.
We recommend you use all the resources available before buying or selling anything of questionable origin. There are also inexpensive home lead-testing kits available – especially important for children's toys and clothing (anything manufactured overseas where production guidelines are less strict).
These are all merely suggestions. You can learn more or report suspected fraud as indicated:
For other precautions you may wish to take, please visit the FTC site (Federal Trade Commission), which provides detailed information on E-Commerce transactions. You may also wish to visit www.OnGuardOnline.gov , which provides useful tips reducing the likelihood of fraud, securing your personal information as well as other valuable information.
In addition, if you know of or suspect fraud by one of our advertisers or users please let us know at once by e-mail at admin@historiccity.com or by calling 904.829.9511 between 9:00 a.m. – 6:00 p.m. ET, Monday – Friday.
Share your thoughts with our readers >>