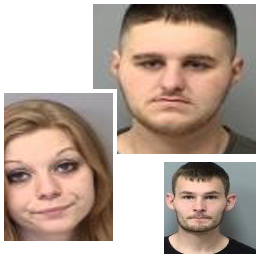 Three North Carolina residents in their early 20's found themselves behind bars at the St Johns County Detention Facility Tuesday evening according to a report filed with Historic City News by St Augustine Beach Police Chief, Robert A. Hardwick.
Just before 4:00 p.m., Tuesday November 24, officers with the Beach Police Department responded to a call from 331 A1A Beach Boulevard. The management of the business wanted three individuals removed from their property and warned against trespassing after they began causing a disturbance. Shortly before officers arrived at the scene, they were advised that the three individuals were in a grey car, still parked on the property.
The first responding officer arrived and approached the vehicle bearing a North Carolina tag. The driver, later identified as Travis Avery, started the vehicle up and attempted to leave. The officer conducted a traffic stop of the vehicle and identified all three subjects as the individuals that the management wanted removed from the property.
When the officer approached the driver's side door, Avery said, "I have a gun in the vehicle" while simultaneously pulling a readily accessible, concealed, handgun from an unfastened holster located in the door panel area.
Avery had the handgun pointed towards the front windshield in the same direction of another officer who was talking to the property manager.
The approaching officer quickly grabbed Avery's arm and secured the loaded 9mm handgun. Avery told the officer that he did not have a concealed weapons permit.
A search of the vehicle and its occupants led to several felony and misdemeanor charges. Officers arrested:

TRAVIS AVERY, 22, Dallas, NC, for carrying a concealed firearm, possession of cocaine, possession of marijuana and possession of drug paraphernalia
DALTON CAMPBELL, 24, Dallas NC, for resisting arrest without violence and possession of drug paraphernalia

ANGEL LUTHER, 22, Dallas, NC, for possession of drug paraphernalia.
All three were transported to the St. Johns County Jail without incident.
Share your thoughts with our readers >>