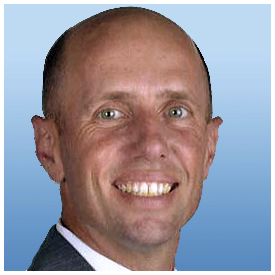 News reporters will no longer be able to criticize the actions of elected public officials in St Augustine if those politicians believe the characterization of their actions reflects poorly on their reputation.
The virtually absurd claim of freshman city commissioner Todd David Neville, a 41-year-old local certified public accountant, was made during last night's meeting of the St Augustine City Commission and leveled at Historic City News and its editor, Michael Gold.
The attack had been brewing for more than a week but was not included in the meeting's agenda or announced prior to "commissioner comments", typically the final minutes of the meeting.
At issue for Neville is a report by the independent news publication which has made its own reputation for not shirking from controversial public figures over the past fifteen years; since March 2000.
Historic City News reported on three campaign contributions made to Neville during his campaign for election to the part-time $16,138.42 per year position in November.
Neville took $150.00 from attorney Ellen Avery-Smith, $300.00 from attorney Seth Corneal, and $500.00 from controversial developer, David Corneal according to financial reports on file with the Supervisor of Elections in St Johns County.
When Corneal applied for a change of zoning of the Prince Murat House, and the seven remaining historic homes built between 1790 and 1910, after he demolished the Carpenter House, his application was argued by attorney Avery-Smith. Attorney Seth Corneal, was sworn and testified during the quasi-judicial public hearing in favor of his father's application to remove the protection of HP-1 zoning in favor of a less-restrictive planned unit development (PUD).
It was Neville's choice not to disclose the $950 in donations paid to him by the participants in the rezoning. A staff attorney's opinion from The Florida Ethics Commission says, hypothetically with caveats, that Neville would likely not have a "voting conflict" as that term is defined by their commission. Had that been true, he would have been forced to recuse himself from voting in the matter — however, the Historic City News article did not say that he had such a conflict.
The news article simply described Neville's conflict of interest and that he had not disclosed it. The article did not say that he broke any laws by failing to do so, rather the title of the article asked the question of its readers, "Should elected officials vote in city business with their donors?"
In a published interview between the Historic City News editor and local newspaper reporter Sheldon Gardner last night, "If the press can be sued for defamation when they report the truth [because] public officials don't like it because it doesn't look good for them, then we're all in trouble."
The US Supreme Court decision, New York Times vs Sullivan, has been the often cited precedent in such disputes. Justice Goldberg, with whom Justice Douglas joins, concurring in the result. "The Court today announces a constitutional standard which prohibits a public official from recovering damages for a defamatory falsehood relating to his official conduct unless he proves that the statement was made with "actual malice" — that is, with knowledge that it was false or with reckless disregard of whether it was false or not."
Also, Cantwell v. Connecticut, 310 U.S. 296, 310, Justice Brandeis correctly observed, "sunlight is the most powerful of all disinfectants."
"For these reasons, I strongly believe that the Constitution accords citizens and press an unconditional freedom to criticize official conduct. It necessarily follows that, in a case such as this, where all agree that the allegedly defamatory statements related to official conduct, the judgments for libel cannot constitutionally be sustained."
And, in Florida, we have a state statute, 768.295 F.S. Strategic Lawsuits against Public Participation (SLAPP) prohibited.
(1) It is the intent of the Legislature to protect the right in Florida to exercise the rights of free speech in connection with public issues, and the rights to peacefully assemble, instruct representatives, and petition for redress of grievances before the various governmental entities of this state as protected by the First Amendment to the United States Constitution and s. 5, Art. I of the State Constitution.
It is the public policy of this state that a person or governmental entity not engage in SLAPP suits because such actions are inconsistent with the right of persons to exercise such constitutional rights of free speech in connection with public issues.
Therefore, the Legislature finds and declares that prohibiting such lawsuits as herein described will preserve this fundamental state policy, preserve the constitutional rights of persons in Florida, and assure the continuation of representative government in this state.
Share your thoughts with our readers >>