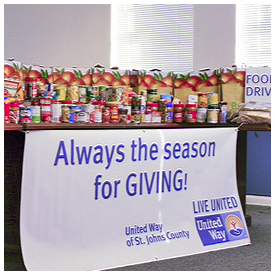 Melissa Nelson, Executive Director of United Way for St Johns County, reported to Historic City News the final tally on non-perishable canned food collected at Saturday's Light-up Night.
Attendance at the Light-up event, organized by the City of St Augustine, is free; however, Mayor Nancy Shaver suggested that residents bring with them a can or two of food to help restock local food banks in need of replenishment.
"We currently have over 400-pounds of food that has been contributed and an additional 250-pounds of peanut butter collected by Quota International of St. Augustine, for a grand total of over 650-pounds of food," Nelson told local reporters. "We have four more bags that should arrive any minute; easily pushing us over 700-pounds."
Tables, staffed by United Way volunteers, were available before the Nights of Lights held it's kickoff in the Plaza de la Constitution. In order to comply with city ordinances, the food contribution points were broken down at 6:00 p.m. Nelson said they were still collecting and counting food as late as this morning.
"The rain did significantly impact this fabulous idea, but I think it all turned out well," Nelson said. "I anticipate that we will have more success on Sunday at the Amphitheatre."
Canned food collected Saturday will be distributed next week after the first concert, according to Nelson. The peanut butter collected by Quota International will go to the food kitchen of St Francis House today.
Share your thoughts with our readers >>