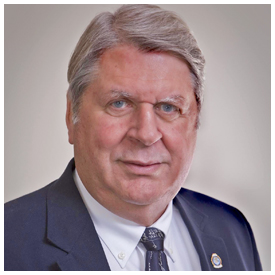 Jerry Cameron announced to local Historic City News reporters that he is a candidate for the St. Johns County Commission. Cameron recently retired after more than ten years of service as the St. Johns County Assistant County Administrator for Community Services.
He said that he will run on a platform of limited government, lower taxes, and fiscal responsibility.
"I love this community, and I would like to continue to serve it as a County Commissioner," said Cameron. "I intend to keep serving with the same conservative values that shaped my leadership as an administrator."
Cameron is running for the District 3 seat on the county commission. It is currently held by Commissioner Bill McClure, who has yet to announce plans for 2016.
Prior to Cameron's work with St. Johns County, he served as police chief in two jurisdictions, including Fernandina Beach, where he also served as city administrator. He and his family have been St. Johns residents since 1996.
During his tenure with the county, Cameron worked on several notable projects, including the effort to relocate the county's Veterans Administration clinic. He testified before Congress earlier this year about the delays the county encountered while working with the VA to find a new site.
He was also instrumental in implementing a new public safety communications system, vastly improving the ability of law enforcement officers and fire fighters to communicate during critical responses.
Cameron is a graduate of the FBI National Academy and the Drug Enforcement Administration's Drug Enforcement Course. He has served as an adjunct and full-time faculty member at the Institute of Police Technology at the University of North Florida.
"I look forward to our campaign," Cameron added. "St. Johns County is a special place, and it will be a privilege to work hard to keep it that way."
Share your thoughts with our readers >>