The Executive Office of Governor reported to northeast Florida news reporters that Dane Grey, president of Jacksonville based Elite Parking Services of America, was presented the Governor's Business Ambassador Award this week.
Grey was in Tallahassee on August 5th to receive the award from Governor Rick Scott and members of the Florida Cabinet; including Commissioner of Agriculture and Consumer Services, Adam Putnam, Florida Attorney General Pam Bondi, and Jeff Atwater, Chief Financial Officer and State Fire Marshal.
"We have an excellent team of professionals at our headquarters in downtown Jacksonville," Grey told reporters. "We look forward to continued success and again thank Governor Scott for his work to help create the foundation that allows businesses like mine to grow."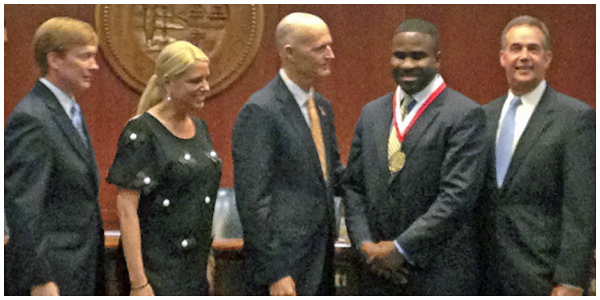 Grey played football for Jacksonville University where he graduated with a Bachelor of Science in Aviation and Airway Management. He also graduated from Delta State University; earning an MBA, as well as a graduate of Leadership Jacksonville. He volunteers with the Duval County Public School System.
Grey started doing business as a valet parking company in 2007 from his dorm room at Jacksonville University. Elite Parking Services of America, the now national transportation management company, oversees transportation and parking management services for airports, the US Veterans Administration, local governments and private corporations throughout America.
Elite Parking currently has 320 total employees with 60 employees based in Florida, including its corporate headquarters in Downtown Jacksonville.
According to Kevin Doyle with Wexford Strategies, Grey has recently launched a new technology platform, known as "eTrac", that he says will transform the parking management industry. Doyle reports that the company is looking to expand to 150 Florida based employees in the coming year with expanded operations in St Augustine, Tallahassee, Jacksonville, and Orlando.
Elite Parking is a technology driven parking management firm that focuses on Public Private Partnerships with airports, municipalities, and real estate firms across the United States. Parking operations are deployed through a newly developed cloud based parking concept that incorporates lean concepts, value stream mapping, industry best practices, and a six sigma focus by providing state of the art technology designed to lower client cost, increase efficiency, and increase employee productivity.
The Governor's Business Ambassador Award is given to businesses in recognition of their efforts to create jobs, develop innovative technologies, and opportunities for Florida families.
Share your thoughts with our readers >>