On Saturday, November 14th, Florida Living History, Inc., in partnership with Fort Mose Historic State Park and the Fort Mose Historical Society, will present 18th-century, historical interpretation from 10:00 a.m. to 3:00 p.m. at Fort Mose Historic State Park in St Augustine.
At 2:00 p.m., Annie Francis, independent scholar, will present Florida's First Foods: A Heritage of Fusion, featuring her research from Spain's Archives of the Indies and other collections on foods commonly consumed in colonial Spanish Florida, along with original recipes.  Samples of these period foods will be offered (while supplies last).
This heritage Event will focus on harvest-time in colonial Florida.  Volunteers from Florida Living History, Inc., will discuss and illustrate the food and foodways of 18th-century Fort Mose and St. Augustine.  Demonstrations of colonial Florida cooking will take place in the park's palm-thatched choza (outdoor kitchen).
For the youngsters, Naturalist, AyoLane Haluskey, will be sharing 18th-century survival skills from the frontiers of colonial Florida.  Other children's activities will include pottery-making, tin-smithing, cornhusk-doll-making, "militia" drill, leather-working, and more.
Fort Mose Historic State Park, located at 15 Fort Mose Trail, is the site of the first, legally sanctioned free black settlement in the continental U.S., established in 1738.  Admission to this heritage Event is free of charge to the public.  There is a Museum admission fee of $2.00 per adult; children, age 5 and younger, are free.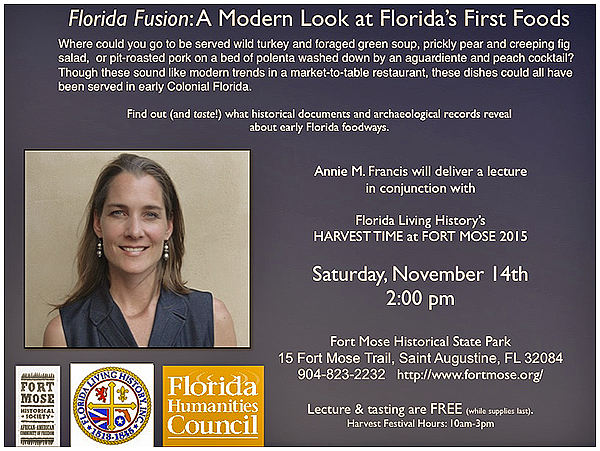 Florida Living History, Inc., is a Partner in the U.S. National Park Service's Underground Railroad Network to Freedom Program.
Founded in St. Augustine, Florida, in 2009, Florida Living History, Inc., is a community based, non-profit 501(c)(3) organization of volunteers dedicated to educating the public about Florida's colonial and territorial history, using living-history programs, demonstrations, and recreated portrayals of significant historical events.
Share your thoughts with our readers >>