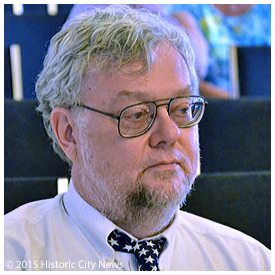 Letter: The "Greening of St. Augustine"
Edward A Slavin, Jr.
St Augustine, FL
Dear Editor:
The "Greening of St. Augustine" is everywhere: data-based decisions, street-paving, increased recycling, "lifeline" water rates, promoting equality, honesty, environmental stewardship, historic preservation.  Thanks to Mayor Nancy Shaver, et al. listening to "We, the People," it's a proud time for all St. Augustine residents!
Errant misguided mossbacks want "their" government "back." They resent Mayor Shaver's election.  We need no unconstitutionally vague "decorum" restrictions on your free speech rights ("like a moose needs a hatrack").  Wasn't it "disruptive" for Commissioner Todd Neville to demand filing of a taxpayer-funded libel lawsuit (SLAPP)?   Does being Commissioner Neville "mean never having to say you're sorry?"
City Hall needs:
A welcoming spirit.
No favoritism or no-bid contracts.
Transparency: web-posting all contracts and spending, helping us find and end waste, fraud, abuse, misfeasance, malfeasance, nonfeasance.
No more First Amendment violations. "Our streets are not lively," Mayor Shaver says.
Thorough legislative research — enough governmental guesswork and "ad hocracy"
Enlarging boards, embracing more diversity, balance, fairness.
Questioning board "service" by putative "professionals" (some are too often absent, late, leave early, interrupt, bark at citizens, advocating for clients before boards and Commission, with frequent recusals and blurred ethical lines).
Enough.  Why not a series of voter-approved Charter changes to improve our City government?
Enlarging Commission, with single-member districts?
Creating a Commission committee system?
Expanding boards, with citizen-elected board members?
Endorsing St. Augustine National Historical Park and National Seashore?  www.staugustgreen.com
Creating strong ethics laws, including full disclosure of all beneficial owners of secretive LLCs seeking zoning favors?
Protecting ethical whistleblowers, reforming government contracting and creating elected City Attorney, Inspector General/Ombudsman/Public Advocate offices?
Enacting building height limits, forever preserving our village?
Defining our future is up to us.
What do you reckon?
What's your vision?
Share your thoughts with our readers >>