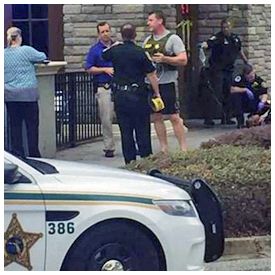 Details in this morning's robbery attempt in Julington Creek were provided to Historic City News today as detectives with the Sheriff's Office Major Crimes Unit continue their investigation.
We now know that the robber, identified as 25-year-old David Duong of Jacksonville, entered the Compass Bank in Julington Creek at about 11:45 a.m., approached a teller, and passed a note demanding money.
"The teller handed the suspect an undisclosed amount of cash and the suspect fled through a side door," SJSO spokesman Kevin Kelshaw told local reporters.
It just so happened that 40-year-old Michael Kellam, a retired Jacksonville Sheriff's Officer, was sitting in the drive through teller line at the Bartram Oaks Walk branch. Kellam observed Duong running from the bank after the robbery. He followed Duong to Bishop Estates Road and Teakwood Court, where he confronted Duong.
According to witnesses at the scene, a brief altercation between Kellam and Duong occurred. Duong was seen attempting to retrieve a firearm from his waistband. At that point, Kellam drew his own handgun and fired several rounds; striking Duong at least two times.
Injured and bleeding, Duong ran back to the area of Bartram Oaks Walk shopping center where he was apprehended without further incident. A large amount of currency, the note demanding money, and a handgun were taken off Duong by the arresting officers. An arrest warrant charging Duong with armed robbery is being obtained at this time.
Duong was stabilized for transportation by air ambulance to UF Health Jacksonville, with serious injuries. No word on when he will be released from the hospital.
Share your thoughts with our readers >>