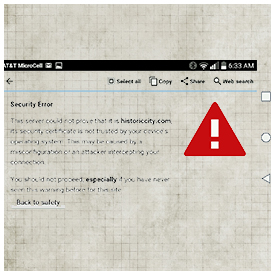 During the past 30-days, some Historic City News readers experienced difficulty connecting to historiccity.com links from facebook, google, linkedin, and twitter; especially when connecting from a mobile device.
The snag occurred when we installed newer, upgraded secure communications certificates on our web servers. Known as Extended Verification Secure Socket Layer (EV SSL) connections, recognized as the preferred high security authenticated communications, some browsers installed on some devices gave false security warnings. Connections were interrupted until you confirmed that you recognized the risk of a connection they were unable to verify using an outdated protocol.
Now when you access https://historiccity.com, you should see a green address bar, green lock icon, or other green indicator of EV SSL communication; regardless of the type of device, browser, or Internet connection.
If you are still experiencing problems between your browser and our website, please let us know using the form below.
Share your thoughts with our readers >>