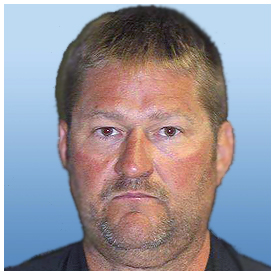 Kevin Kelshaw, Media Relations Officer for the St Johns County Sheriff's Office, informed local Historic City News reporters that 45-year-old Daniel J. Ruddell who resides at 7 Sea Trail in Palm Coast, was taken into custody on Thanksgiving evening after leading police on a three-county, high speed chase.
The incident began at 4:59 p.m. when police say Ruddell entered the Circle K convenience store at LPGA/Clyde Morris Boulevard in Daytona Beach and threatened the store clerk with a liquid he claimed was toxic. According to a witness statement, Ruddell demanded money. Surveillance video is being obtained by law enforcement authorities in Volusia County at this time.
Ruddell fled the scene driving a 2015 black Chevrolet Silverado pickup truck. Officers from the Daytona Beach Police Department and the Volusia County Sheriff's Office located the vehicle at Nova Road and 10th Street, where they attempted to conduct a traffic stop. Ruddell reportedly fled and got onto I-95 northbound.
As the pursuit went into Flagler County, deputies deployed Stop Sticks at two separate locations along the Interstate; however, the vehicle was able to take evasive action, avoiding the tire flattening devices in both cases.
The pursuit continued north into St. Johns County where Stop Sticks were deployed a third time at the exit ramp at SR-207. The driver again was able to avoid contact with the sticks. This time, he rammed a Flagler County Sheriff's patrol car.
As Ruddell continued to make his escape, he used the pickup truck in an attempt to run over deputies at the roadblock. That is when several deputies fired shots at the suspect vehicle, Kelshaw told Historic City News.
The pursuit finally was brought to a stop when officers used a PIT maneuver to force the fleeing truck off the road. The vehicle crashed near the CR-214 overpass, according to the report.
Ruddell was transported to Flagler Hospital for evaluation and then charged with aggravated fleeing and attempting to elude police with property damage.
Additional charges are pending further investigation.
Jim Troiano, Public Information Officer for Flagler County Sheriff Jim Manfre, reported to Historic City News that as soon as the St. Johns County criminal investigation is completed, the Flagler County Sheriff will conduct an internal investigation into all aspects of the agency's involvement in the incident.

Share your thoughts with our readers >>