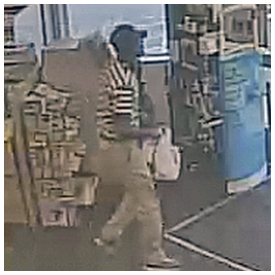 A Duval County woman became the victim of identity theft and credit card fraud recently and today, Historic City News readers are being asked for their help after it was discovered that an unknown man is using the victim's information to make fraudulent purchases in St Johns County.
Even though she was still in possession of her credit card, the 47-year-old victim discovered that her credit card number was used for a purchase at Walgreens drug store in Fruit Cove on October 1st. She immediately reported the crime to police.
The investigation revealed that a man purchased a $200 gift card, a $50 gift card, and a birthday card, using the victim's credit card information.
Surveillance video images of the man making the purchases were provided to local reporters. He is described as a black male wearing light colored pants, a white striped shirt and a baseball cap.
Anyone with any information concerning this person's identity or whereabouts is asked to contact Detective Chris Alexander at the St. Johns County Sheriff's Office by phone (904) 824-8304. You can remain anonymous and possibly be eligible for a cash reward by calling Crime Stoppers of Northeast Florida at 888-277-TIPS.
Let us know what you think >>