Polls are closing today at 6:00 p.m., but Historic City News readers can continue early voting at all six designated locations around the county beginning at 9:00 a.m. Early voting will continue until 6:00 p.m. Saturday evening. There will be a two-day break and then Election Day will be Tuesday November 3rd.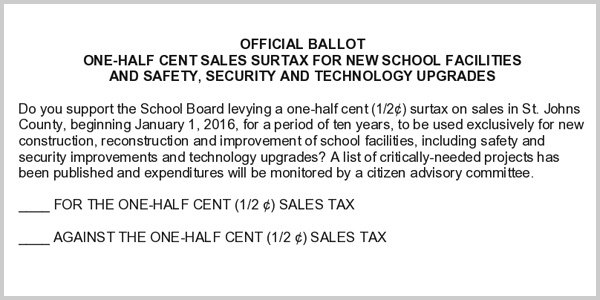 Just over 1,200 ballots were cast today; both early and through the mail, according to Vicky Oakes, St Johns County Supervisor of Elections reported.
Since the early voting process began locally on October 24th, a total of 9,921 ballots have been received by mail, another 5,934 voted early in person, and, 2 provisional ballots were cast.
There are 162,779 registered voters eligible to vote on this sales tax increase. The election is open to voters of all party affiliations. Currently, only about 10% of St Johns County electorate has voted.
Share your thoughts with our readers >>