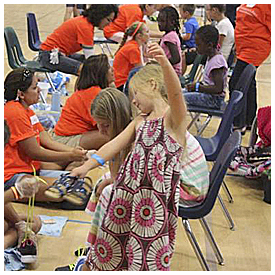 Tonight the Alpha-Omega Miracle Home held its 16th annual fundraising banquet to support the operation of its various faith-based outreach initiatives benefiting those who are the most vulnerable; single and expectant mothers, children, and the elderly.
Mayor Nancy Shaver addressed the audience with a very apropos story.
I'd like to share with you the story of a single mother I knew.  She was in her 20's and had just given birth to her son.  Her husband had lost his job, their savings, and forged her name on bank notes for money to gamble.
She went home to her parents, who weren't all that happy to see her, but offered her a soft place to fall.  She found a job she could walk to, and then was able to save up for a used car.  Soon she had enough for the deposit on an apartment and she was taking care of herself and her son.
When she went to the grocery store she knew almost to the penny what her grocery bill would be when she checked out. Her little boy would ask for a treat, like a happy meal at McDonalds.  He wanted the toy. And, some weeks, there was $4 left over and she would get him a happy meal and if there was a little extra money she would have a small order of French fries.
That woman was me and the little boy is now a doctor with children of his own.
Alpha-Omega Miracle Home is a non-profit 501(c)(3) organization offering supportive housing, along with holistic program offerings that includes a community diaper bank, an annual back-to-school "Shoes of Hope" giveaway, an Extended Families Program, adoption services, and the Alpha-Omega Thrift Shop.
Share your thoughts with our readers >>