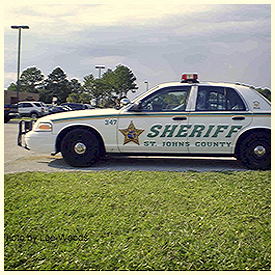 Lt Jennifer Layton reported to Historic City News that earlier today, a St Johns County deputy sheriff struck a bicyclist as he pulled onto SR-207 from the parking lot at the St Augustine Record.
The 32-year-old deputy, Nicholas Cooper, was driving the marked patrol car with one passenger, 58-year-old James Holly. Cooper attempted to turn right onto SR-207 from News Place pulling into the path of the bicyclist.
The crash occurred about 12:12 p.m. today. The bicycle rider, identified to local news reporters as 26-year-old Daniel Downour of St Augustine, was charged with failure to use due care. Downour received minor injuries in the crash, according to Lt. Layton.
Share your thoughts with our readers >>