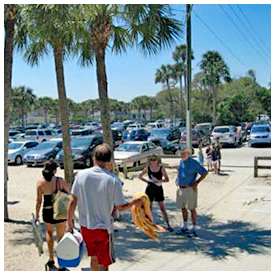 Historic City News local reporters were informed that a beach restoration project will close the parking lot, walkover, and all related facilities at Mickler's Landing at Ponte Vedra Beach until Spring 2017.
According to a communications spokesperson with St Johns County, the site is being utilized as a staging area for beach restoration associated with damage caused by Hurricane Matthew.
"Heavy equipment will be present on the beach until restoration efforts are completed," Michael Ryan told local reporters. "Visitors are encouraged to exercise caution when visiting Mickler's Landing Beach."
Improvements included in the restoration will be enhanced parking and access for pedestrians, emergency vehicles, and horseback riders, a new beach walkover, and native landscaping.
To find information on other St. Johns County beach access points, please visit www.sjcfl.us/beaches
Share your thoughts with our readers >>