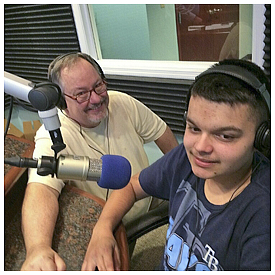 FSDB Career Development Department Director, Andrea Armstrong, reported to Historic City News that several Blind High School students recently visited the studios of local radio station, Beach 105.5, where the small group participated in the promotion of a "Don't Text and Drive" campaign.
After the initial visit, where the students pre-record 1:45 public service advertisements for the promotion, the students returned to campus and contemplated whether they might be interested in an off-campus job opportunity with the radio station that would provide an opportunity to utilize their communications abilities, both on the telephone and on the air.
Two students, Trent Ferguson, a Blind High School junior from Sebring, and Iesha Thompson, a Blind High School senior from DeBary, showed interest and an aptitude for marketing station programing to local businesses.
"The first day Andrea Armstrong gave us a tour of FSDB, I saw a wealth of passion and ability," Station Manager David Ayres explained. "Both students were always upbeat and positive — even when their calls to local businesses were rejected."
The students also participated in radio production with their voices on the air. Their keen sense of sight through sound is a talent Ayres says he capitalized on, "and both students got paychecks as well."
Station owner, Jim Martin, has been looking for a way to include the blind community in his station. He says it has been his intention since he was a college student at University of Florida. Martin learned the challenges and talents of blind people from his fraternity brother and college friend, Charles Wilson Cusik, who was blind. He says he has been waiting for the right circumstances to come along; and, finally this endeavor his allowed him to realize his plans.
The programming and sales departments are working on more ideas for career partnerships with FSDB.
Share your thoughts with our readers >>