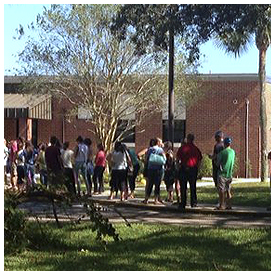 For the second morning in a row, law enforcement and emergency medical personnel have responded to a bomb threat at Bartram Trail High School in northwest St Johns County, according to a report received by Historic City News.
This story is still developing, however, Commander Charles E. Mulligan with the St Johns County Sheriff's Office reports that today's threat "is similar, if not a mirror threat of yesterdays".
As a precaution, the students are being moved to the football stadium while law enforcement and bomb squad officers search the school property.
"This process, like yesterday will take several hours due to the size and scope of the property," Mulligan said. Although yesterday's threat found no evidence of foul play, this threat must be given the same weight as any other announced threat to public safety.
Historic City News will update this article as new information is learned later today.
Share your thoughts with our readers >>