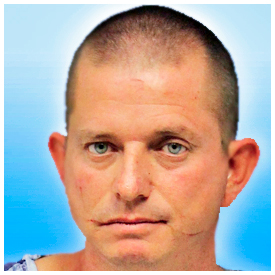 Historic City News learned that a 40-year-old Duval County man was arrested on a host of charges following a home invasion and burglary of an occupied residence early Thursday morning.
The investigation began at 6:30 a.m. when deputies responded to several reports of a suspicious person walking between homes in the Whisper Ridge subdivision.
While responding to the area, the Sheriff's Office received a call from a woman who was accosted by a man who she said demanded money and then locked her in a room. The victim gave deputies a good description of her attacker who was believed to be armed.
Searchers observed Christopher Michael Foley, who resides at 4630 Sunderland Road, as he ran across CR-208 into a wooded area. A deputy and his K-9 "Gambit" gave pursuit. The K-9 located Foley and engaged him after he resisted arrest.
Foley's wounds were treated at Flagler Hospital, then he was arrested and charged with burglary to an occupied dwelling, grand theft, resisting arrest,
and possession of burglary tools.
Foley has been arraigned and remains in custody now in lieu of $352,500 bail. Additional charges are pending further investigation.
Share your thoughts with our readers >>