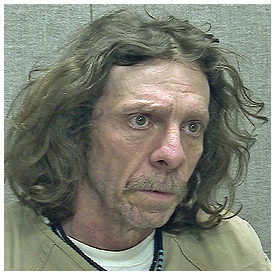 Historic City News learned that an off-duty deputy's dogs alerted him to the presence of 54-year-old Virginia fugitive James Kent Booth after they were let outside in the back yard.
The Flagler County Sheriff's Office has charged Booth with burglary of a conveyance and resisting arrest without violence after he was found hiding in a shed under a blanket at the home of a Flagler County sheriff's deputy at 4:41 a.m. today. Booth is also being charged with being a fugitive from the work-release program in Henrico County, Virginia.
"I'm very proud of the work these deputies did overnight to find this fugitive," Sheriff James L. Manfre told reporters. "They worked long hours to protect our community in this situation and are to be commended. I also want to commend the deputy who acted quickly to apprehend this fugitive."
The deputy, who was not named, located Booth in his back yard and held him at gunpoint until other deputies arrived, just before 5:00 a.m.
A search for Booth began after a single-vehicle crash was reported last night on southbound I-95 in Flagler County. Witnesses said two men and a woman fled the crash scene.
Deputies say that they are questioning the existence of the reported second man. There appear to be conflicting descriptions and accounts of this man and his involvement.
Deputies were alerted that the female crash victim showed up at a home in the "B" section of Palm Coast, near I-95, and needed assistance.
Detectives interviewed the woman was identified as Debra Diane Sparks; the owner of the 2002 Saturn involved in the crash. At this time, Historic City News is being told that there will be no Florida charges filed against Sparks.
Let us know what you think >>