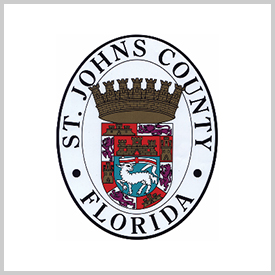 St. Johns County has reported to Historic City News that they have launched a Hurricane Matthew Cleanup Program with a dedicated webpage to keep residents updated concerning the continued progress of debris removal.  It will help local residents and businesses track the debris removal and know when their neighborhoods will be serviced next, according to county administration.
The website is accessible at www.sjcfl.us/hurricanematthewcleanup and provides progress updates, a pick-up schedule that lists specific streets to be served, and a map that allows visitors to track which areas have already received an initial pickup of debris.
You can view Hurricane Matthew Debris clean-up maps for the City of St. Augustine at the following website:
http://www.citystaug.com/alert_detail.php
---
St. Johns County Hurricane Matthew Debris Removal Program by the numbers:
Total Square Miles to Clear – 602
Miles of Coastline to Clear – 42
Debris Removal Regions – 18
Regional Debris Staging Areas – 6
Debris Removal Crews – 60
Total Debris Collected to Date – 158,000 cubic square yards
---
St. Johns County is also cleaning debris from 42 miles of coastline in the wake of Hurricane Matthew. Debris removal will continue until all beaches have been cleaned.  You can view the beach debris clean-up progress map at the following website:
http://www.sjcfl.us/hurricanematthewcleanup/index.htm
The public parking area and all related facilities at Mickler's Beach are closed and the site is being utilized as a staging area for equipment, containers, and debris associated with post-Hurricane Matthew cleanup.
Contractors will work from Mickler's south to the Guana Dam and Mickler's north to the St. Johns County line. Heavy equipment will be present on the beach from 7:30 a.m. to 5:30 p.m. daily until clean-up efforts are completed.
Public access to the parking lot at Mickler's Beach will be restored from Saturday mornings through Sunday evenings to allow beach access. All visitors are encouraged to exercise caution when visiting Mickler's Beach.
St. Johns County has reopened vehicular beach access between the Ocean Trace Road Ramp and the Dondanville Road Ramp. Vehicular access will be permitted from 8:00 a.m. through 7:30 p.m. daily.
Share your thoughts with our readers >>