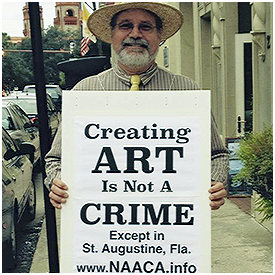 In what many Historic City News readers have jokingly referred to as "shady meetings", before tonight's special, ceremonial meeting to reorganize the newly re-elected mayor and commissioners, a private "shade" meeting will take place at city hall — a meeting not open to the public.
Being taken up in tonight's shade meeting; the second lawsuit against the City of St Augustine by Bruce Bates and a group of working artists who are fighting City Hall for access to public property on which they can exercise their First Amendment rights – painting, photographing, and sculpting their impressions of images around the city; constitutionally protected activity that has historically and traditionally taken place around the city for generations.
Monday evening, December 5, 2016 at 5:45 p.m. in the Lightner Museum Lobby, the commission will convene a special meeting for this purpose and then recess to the deAviles Conference Room, upstairs, for the duration of the Shade Meeting.
The only persons authorized to attend the meeting are Mayor Nancy Shaver, Vice-Mayor Roxanne Horvath, Commissioners Leanna Freeman, Nancy Sikes-Kline, Todd Neville, City Attorney Isabelle Lopez, Assistant City Attorney Denise May, outside counsel Edward L. Birk and a certified court reporter.
If there is any business required to be held in public view because of the secret deliberations, that business will be taken up when the mayor re-opens the Special Meeting. After the special shade meeting, the commission will stand adjourned until the swear in ceremony at 7:30 p.m.
Share your thoughts with our readers >>