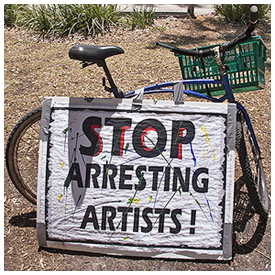 Historic City News has learned that at 4:00 p.m. on Monday afternoon, in a secret closed-door session, the city attorney, Isabelle Lopez, will request the advice of the City Commission regarding the pending litigation between the City of St Augustine and the constitutionally protected artists who they continue to harass.
We reported on May 14th that Code Enforcement Officer Curtis Wendell Boles was interfering with Bruce Bates, one of the plaintiffs in the current and last lawsuit against the city, and actually issued a written "warning" to another, Martha Hird, as they each were creating protected works of art.
At a special meeting, called specifically for this purpose, Mayor Nancy Shaver, Vice-Mayor Roxanne Horvath, Commissioner Leanna Freeman, Commissioner Nancy Sikes-Kline, Commissioner Todd Neville, Assistant City Attorney Denise May, outside counsel for the City, Edward L. Birk, and a certified court reporter, will be the only people able to hear Lopez' request until after the lawsuit is settled.
After the officials complete their secret meeting in the Alcazar Conference Room, if there are any matters that must be decided in public, they will re-open their Special Meeting and dispose of them prior to the regular open commission meeting scheduled for 5:00 p.m.
Share your thoughts with our readers >>