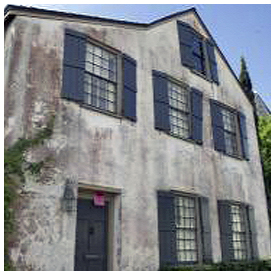 Blake Deal III will continue to hold weddings at his property located at 7 Bridge Street to the chagrin of many Historic City News readers who live in the city's historic preservation districts; and, so long as he keeps attendance to 35 guests or less (45 guests after the first year), and a few other conditions, the city will do nothing to interfere with his rental business.
Code enforcement found repeated violations of city code related to weddings at the property, citing Deal $12,000 in accumulated fines; but Deal, an attorney in Ponte Vedra Beach, denied that he was doing anything against code, and City Manager John Regan recommended that the commission substantially look the other way.
Regan's "deal for Deal":
waives $10,000 of Deal's $12,000 fines
allows Deal's tenants to host events with a 30-day minimum rental
allows Deal to host 35 guests-per-event
allows Deal to host 45 guests-per-event next year
does not allow on-street neighborhood parking
does not allow photos depicting larger events in advertising
The city's code enforcement board voted in May to fine Deal $12,000 after a wedding was held days after the first adverse code enforcement decision. City Manager John Regan supported approving the settlement agreement, citing the great likelihood of litigation without it. Commissioners unanimously approved the settlement.
Other lodging establishments competing for lucrative wedding accommodations will no doubt be following the city's success and failures under this special "deal for Deal".  Regan told commissioners that enforcement of the agreement will determine the city's credibility and that he intends to follow Deal's compliance closely.
Share your thoughts with our readers >>