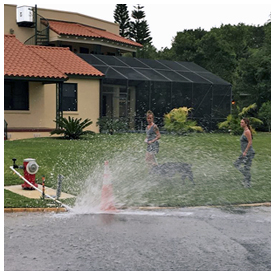 Paul Williamson, Public Affairs Director for the City of St Augustine, wrote to Historic City News last week to remind our readers that, with the start of Daylight Saving Time nearly six weeks ago, watering restrictions have been changed to suit the season.
The City wants you to know when and when not to irrigate. Williamson advises that the time-change allows for no more than two-day a week irrigation of most areas.
The City even has a scheme for watering where the general rule is that properties with odd numbered street addresses may irrigate on Wednesdays and Saturdays, those with even numbered street addresses may irrigate on Thursday and Sunday.
Under the City watering restrictions, no irrigation may occur between 10:00 a.m. and 4:00 p.m.
Of course, if the City maintains jerry-rigged fire hydrants to repeatedly spew thousands of gallons of water into the city's residential streets for hours on end, that would be "okay".
For complete details, including information on exemptions, visit the web site of the St. Johns Water Management District.
Share your thoughts with our readers >>