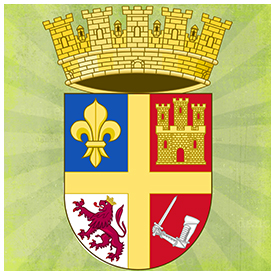 The City of St. Augustine crews began standard storm preparations today. Each department within the city has a preparedness plan designed to meet that department's needs. While General Services focuses on the city's properties and facilities, Public Works turns its attention to heavy equipment that may be needed immediately after a storm, and the Police department prepares to move to 12-hour shifts.
The city's emergency operations are coordinated from the main fire station under the management of Fire Chief Carlos Aviles who maintains close contact with the SJC-EOC which coordinates efforts countywide and hand-in-hand with the state.
St. Augustine Fire Chief Carlos Aviles conducted a briefing this morning with the directors of all city departments for an initial overview regarding Hurricane Matthew. Even though the storm is not expected to affect our weather in St. Augustine until late in the week, the single message of the meeting was: get prepared, follow procedures, and don't be complacent.
Initial preparations focus on ensuring the readiness of equipment that may be needed during the storm and during recovery such as filling gas tanks of vehicles and heavy equipment, and checking equipment, such as chain saws and generators.
Residents and business owners are urged to make their own preparations as they continue to monitor weather information starting by viewing the information available from the St. Johns County Department of Emergency Management's Emergency Operations Center (SJC-EOC) web site at www.SJCEmergencyManagement.org and may be contacted at 904.824.5550. One of the most useful pieces of information is the Situation Report, a press release with the most current information issued from the SJC-EOC.
In the event of a mandatory evacuation, residential re-entry tags will be required to ensure only those authorized to enter certain areas will be allowed to do so. Tags, which hang from a vehicle's rearview mirror, are available Monday-Friday, 8:00am-5:00pm, at the St. Augustine Police Department, 151 King St., or at the drive-through customer service window at the city's Financial Services Building, 50 Bridge St. While a family may have more than one vehicle, re-entry tags are limited to one per family with Anastasia Island or North Beach proof of residency required.
While it is often easy to view the national news, or even regional media, local information is the most important and is most readily available from the SJC-EOC. Information specific to our area and local conditions, such as evacuation routes, shelter locations, road closures and areas of flooding will be most easily available from the SJC-EOC.
St. Augustine residents and businesses are familiar with frequent flooding in low lying areas from seasonal storms and should refrain from driving if possible especially in those areas where flooding is common.
The City of St. Augustine will coordinate its public information through the SJC-EOC as well as its own social media platforms. Residents and businesses are encouraged to connect to these information sources for the most current and local information.
---
City of St. Augustine
---
St. Johns County
Emergency Management
St. Johns County Fire Rescue
St. Johns County Sheriff
Share your thoughts with our readers >>