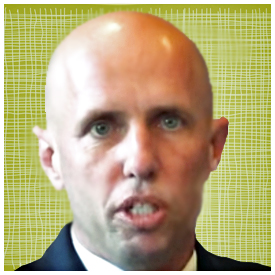 In a thinly veiled appeal to limit the impact of a new methodology for calculating the fire assessment fee from small businesses, St Augustine City Commissioner Todd Neville, an accountant, declared in last night's meeting that it was enough to ask businesses to pay a larger percentage than homeowners for fire services — to also ask property owners to pay half the cost, instead of 30 percent, would be too much in one year.
In reality, as pointed out in a presentation by city Director of Budget and Performance Management, Meredith Breidenstein, the city could recover half the fire service costs and a small business that owns a 2,000-square-foot building would still pay less than $200 each year, an increase of only $72 annually compared to the current rate.
Speaking in percentages instead of dollars added some heat, but little illumination on the real issue behind Neville's concerns.
The "50 percent goal" announced before last night's meeting, was the result of an amalgamation of information collected by Breidenstein and the city's budget consultant. Earlier this year, the commission supported the recommended goal of a 50 percent fire assessment fee with the increased revenue going to the general fund to be used to complete some of the city's overdue road maintenance; deferred in recent years to fund 450th Commemoration activities, junkets to Spain for commissioners like Roxanne Horvath and Leanna Freeman, and $400 a couple tickets for selected city staff to attend gala balls and VIP cocktail parties.
Last night, Neville had a change of heart; and, his impassioned pleas moved his three handmaidens to reverse their earlier support for the fiscally sound increase. But, make no mistake — the few dollars increase to the small businessman was not Neville's true concern.
Institutions who support Neville with tax-exempt status from ad valorem property taxes, still pay the fire assessments, and they don't own 2,000 square foot buildings. One Neville associate, Flagler Hospital, has about 78,860 square feet. Another, Flagler College, has about 342,439 square feet. Pennies turn into dollars quickly for Neville's constituents.
On August 22nd, the issue will return to the commission for a public hearing and final action to establish the percentage of the actual cost of providing fire service that will be recovered through the fire assessment fee.
Breidenstein said today that updated information from other cities who collect a fire service fee may range from 40%-100%, so even at 50 percent, the city would be on the conservative side — 30 percent is considerably under-assessed.
Share your thoughts with our readers >>