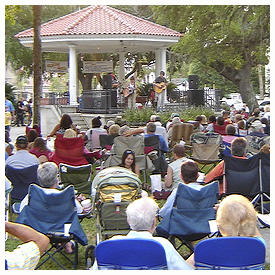 For 26-years the City of St Augustine has been attracting a summer-long audience to the Plaza de la Constitution in search of the best way to spend a Thursday night. Historic City News received word today of this year's entertainment lineup and we believe you'll find something for everyone in your family.
The free concerts are performed each Thursday in the Gazebo, starting at 7:00 p.m. on June 2nd, with open seating available on a first-come basis. Bring your beach blanket, folding chairs, and be prepared to enjoy some of the region's best musical talent; including bluegrass and blues, jazz and country, swing and folk, old time, and popular rock and roll.
Alcoholic beverages are prohibited in the Plaza, but picnic dinners and soft drinks are welcome.
Concerts run all summer long, every Thursday between Memorial Day and Labor Day.
The Schedule:
June 2 — The Driftwoods
June 9 — Florida Brass Quintet
June 16 — Mike Hart's Decoy
June 23 — The Rick Arcusa Band
June 30 — Mid-Life Crisis
July 7 — Bob & Joline and the Friends of Mine Band
July 14 — Ancient City Slickers
July 21 — The Falling Bones
July 28 — The Dunehoppers
August 4 — Triple Rock Blues Band
August 6 — Mike Hart's Decoy
August 11 — Big Pineapple
August 18 — The Grapes of Roth
August 25 — Rob Ellis Peck & Friends
September 1 — Lonesome Bert & The Skinny Lizards
The Location
The Plaza has been a gathering place for the people of St. Augustine for well over four centuries. It is located in the heart of St. Augustine; between Cathedral Place and King Street on the west side of the Bridge of Lions.
The Parking
On-street parking is available near the Plaza and is free throughout the city after 5:00 p.m. Parking is also available in the Historic Downtown Parking Facility, 10 S. Castillo Dr., located at the St. Augustine Visitors Information Center, a 10-minute walk along St. George St. from the Plaza. The cost for parking in the HDPF is $12 per entry or $3 with a ParkNow card.
Rain? What rain?
Because Florida's summer rain showers are usually brief, even when heavy, it is rare for a performance to be cancelled in advance. As is often said: The only way you'll know if a concert is cancelled is to be there. Performances may be postponed if the rain seems brief, but cancelled only if the weather prohibits the performance from continuing. If a concert is cancelled in advance, every effort will be made to notify the public online through Historic City News.
Need to know more?
Concerts in the Plaza is produced by the City of St. Augustine for the enjoyment of its residents and visitors. For more information, visit www.ConcertsInThePlaza.com, call 904.825.1004 during weekday office hours, or e-mail info@citystaug.com.
Share your thoughts with our readers >>