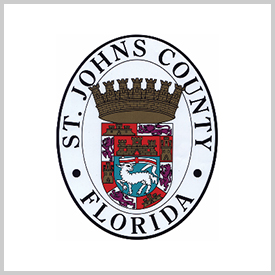 Notice of emergency meeting of the St. Johns County Board of County Commissioners
NOTICE IS HEREBY GIVEN that one or more members of the Board of County Commissioners of St. Johns County, Florida, will hold an emergency meeting on Tuesday, November 8, 2016, beginning at 11:00 a.m. in the San Sebastian Conference Room located in the County Administration Building at 500 San Sebastian View, St. Augustine, FL 32084, for the purpose of receiving an Emergency Management update and considering whether to extend the declaration of local state of emergency.
---
If a person decides to appeal any decision made by the Board of County Commissioners with respect to any matter considered at the public hearing, he/she will need a record of the proceedings, and for such purposes he/she may need to ensure that a verbatim record of the proceedings is made, which record includes the testimony and evidence upon which the appeal is to be based.
NOTICE TO PERSONS NEEDING SPECIAL ACCOMMODATIONS AND TO ALL HEARING IMPAIRED PERSONS: In accordance with the Americans with Disabilities Act, persons needing a special accommodation to participate in the proceedings should contact the ADA Coordinator, at (904) 209-0650 at the St. Johns County Administration Building, 500 San Sebastian View, St. Augustine, FL 32084. For hearing impaired individuals: Florida Relay Service: 1-800-955-8770.
Share your thoughts with our readers >>