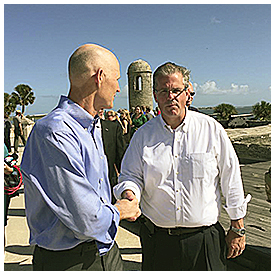 On the heels of his failed efforts to overthrow the local mayor in the November General Election, Flagler College is publicizing an associate professor whose methods, at least in St Augustine local government, are highly suspect.
In addition to Flagler College distributing a "press release" earlier this year seeking unpaid publicity for a how-to guide being sold, for profit, that was co-authored by Joseph Saviak, the mammoth non-profit college is now selling tickets to hear Saviak lecture on "Reinventing Local Government for the 21st Century".
Saviak teaches in Flagler's Public Administration Program, working with students, many of whom are public sector employees serving in different local and state government agencies across the northeast and central Florida regions.
In the aftermath of Hurricane Matthew, whose damages St Johns County Administrator Michael Wanchick initially estimated may exceed $2 billion countywide, Saviak, acting as a self-appointed advocate for his Davis Shores neighborhood residents, sought immediate, priority relief from the City of St Augustine.
Saviak made false and misleading representations that St Augustine Mayor Nancy Shaver was "absent" during the hurricane and was therefore not doing her job as the chief elected official in local government. In fact, from before the time that Hurricane Matthew hit the beaches until after the nearly 10-foot storm surge rushed through the city streets taking everything in its path, Mayor Shaver was on 24-hour duty inside the St Johns County Emergency Management Center.
Saviak escalated his political rhetoric, claiming it was grounded in his years of experience and teachings at Flagler College, invoking the word of God to condemn the re-election of the local mayor. He wrote feverish endorsements for a virtually unknown contender, Kris Phillips. She had only built a home in the city limits this February, rarely if ever participated in city commission meetings, but was being supported by Davis Shores businessman and Seat 4 commissioner, Todd Neville, and others including the former mayor who was unseated by Shaver two years ago, and "dark money" from an anonymous out-of-town political action committee.
Saviak authored an anonymous Facebook page ostensibly to "discuss" holding the mayor accountable for her actions, but where he aggressively deleted public comments supporting the mayor's actions and then blocked or banned further participation by those citizens who offered their support for Mayor Shaver.
It is not known if Joe Saviak is teaching the curriculum approved by Flagler College or if he has his own agenda. It is not clear if the College supports his false and deceptive campaign practices as part of the legitimate course of study for students interested in careers in public service.
However, after today's announcement that Dr Joseph Joyner has been selected president of Flagler College, Saviak may be looking for new job – given his low opinion of Joyner's suitability for the position.
In an e-mail received from Saviak wanting Historic City News to publish an investigative report trashing Joyner, which we did not do, Saviak said (in part):
Joyner resigned from the BOT so he would not be on the board picking him.
3 people on the search committee have a clear conflict of interest
Frank Upchurch works for him
Mark Bailey's firm is paid big $ as a vendor to the district
Tracy Upchurch's wife works for him too
He has no higher Ed experience and no other college in America would pick a smaller county school superintendent.
When we refused to follow Saviak's direction, he went to Folio Weekly, who published his story, unattributed, of course. But the words from Saviak's e-mail to us are the same as those in the Folio article.
One thing is clear, Saviak is interjecting himself into the political process under color of credentials vested in him by Flagler College, and many readers have reported that they found that to be disturbing.
Last week, Sheriff-Elect Rick Staly in Flagler County named Saviak as the only resident of St Johns County to serve on Staly's "transition team".  Staley defeated Sheriff James Manfre in his bid for re-election. Many of the same questionable election tactics were employed in Staly's election as were employed by Saviak in his failed campaign to defeat Mayor Shaver.
Saviak previously was chief of staff for Orange County Sheriff Kevin Beary, but he was fired after Beary aids say Saviak "snapped" when he failed to pass the Bar exam required to become an attorney in Florida.
Saviak challenged his failing grades by writing letters to the Florida Board of Bar Examiners and a Supreme Court justice on Sheriff's Office stationery. In the letter to the Bar, Saviak told officials that they could be subject to "civil and criminal liability" if they did not act appropriately.
Share your thoughts with our readers >>