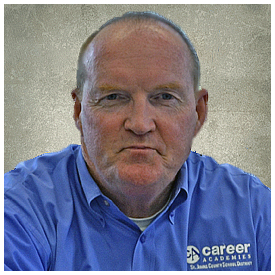 St. Augustine, Fla. — Dr. Joseph G. Joyner, Superintendent of Schools for St. Johns County District in St. Augustine, Fla., was named President of Flagler College on November 29, 2016, by the College's Board of Trustees.
Dr. Joyner was selected to become the next president of the 2,500-student nationally-ranked, independent college after a national search that began in April 2016 when current president William T. Abare Jr. announced his plans for retirement.
"On behalf of the Flagler College Board of Trustees, I am very pleased Dr. Joyner has agreed to serve as the next president of Flagler College," said Frank Upchurch, Chairman of the Board. "He will be a worthy successor to Dr. William T. Abare, Jr. and Dr. William L. Proctor. He shares their commitment to the college's core values of teaching, learning, student success and civility."
More than 171 applications were received during the process, and a Search Committee established by the college's Board of Trustees narrowed the impressive list down to two finalists in November.
In his capacity with the School District, he oversees a budget of $633 million and has had oversight of 21 major facilities construction and renovation projects exceeding $387 million in cost.
"Under Dr. Joyner's leadership, I have every confidence that the college will continue the pursuit of excellence of his two esteemed predecessors," Upchurch told Historic City News.  "I ask the Board of Trustees, distinguished faculty, staff, students and alumni to join me in extending a warm welcome to Joseph Joyner."
Dr. Joyner is retiring as Superintendent of the St. Johns County School District, a position he has served in since 2003.
Under Dr. Joyner's leadership, the District has been recognized as the highest achieving of Florida's 67 school districts for the past eight years and has continually ranked among the top districts in the state in the percentage of money spent on the classroom and for financial transparency.
"It is an honor to be asked to serve as president of Flagler College," said Dr. Joyner. "I will do my utmost to build on the great legacy of excellence that the two former presidents built with so much commitment and determination."
Upchurch said that Joyner was the top choice from an impressive field of candidates.
"The Search Committee had 171 applications for the presidency and interviewed nine candidates," he said. "We think Dr. Joyner is the best choice to lead the college into a new era."
The new president will succeed Dr. Abare, who is retiring after 15 years of service as Flagler College president, following the end of the 2016-2017 academic year, in June 2017. Abare's career at Flagler has spanned 45 years in which he served as Dean of Admissions, Vice President of Academic Affairs, Executive Vice President, and Executive Vice President and Dean of Academic Affairs.
"It has been my honor to serve the college for the past 45 years," Abare said. "I know it will be in great hands with Joe Joyner taking the helm. I will do everything possible to make sure the transition is smooth and that the future continues to be bright for Flagler College under the new leadership."
Share your thoughts with our readers >>