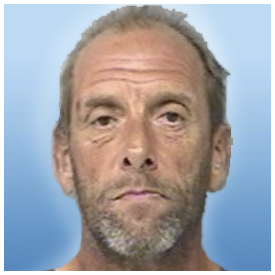 A homeless man was arrested yesterday after he exposed himself to a woman and young boy on Vilano Beach and spit on an officer, according to a report filed with the St Johns County Sheriff's Office and obtained by Historic City News this morning.
Deputies said when they got to the area, several people were upset and told them that the man had no pants on and was causing a disturbance on the walkover between the Vilano Beach Pavilion and the beach.
Deputies took Kenneth Andrews, 50, into custody while they spoke to witnesses.
Several people said he approached a woman and her friend's son and repeatedly grabbed himself.
The woman told deputies he asked if he could sit next to her and she said no and asked him to leave.
The boy's mother said she saw Andrews cursing and yelling at them, walked over to the area and asked Andrews to leave several times.
He said, "You own this beach?" and continued to get close to the other woman.
The woman said Andrews was wearing a small thong, which kept exposing his genitals.
She said she tried to gather her belongings, but he wouldn't let her.
She said she was afraid he was going to try to hurt her or her son and friend.
When deputies told Andrews he was under arrest for disorderly intoxication and indecent exposure in public, he got very belligerent and demanded the officer remove his handcuffs so he could slap him.
He kept asking for digital proof of the reported incident and told the officer he was a Marine and would see him when he got out of jail.
The deputy said Andrews was spitting in the backseat of his patrol car and told him he was going to urinate while on the way to jail.
When they got there, the deputy said he heard him spit and felt something on the back of his neck and head.
Andrews was put in a spit hood and charged with battery on a law enforcement officer, indecent exposure and disorderly intoxication. He remains in custody today in lieu of $12,500.00 bond.
Share your thoughts with our readers >>