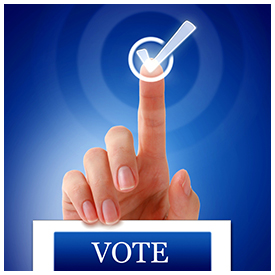 A reminder to Historic City News readers that on Saturday, you will have your first opportunity to cast an early ballot during the early voting period for the March 15th Presidential Preference Primary Election.
The purpose of this Primary is for Republican voters to show their preference of Republican candidates to receive Florida's Republican delegates, and likewise for Democrats.  Florida is a "closed primary" state, meaning that only registered Republicans can vote for one of the Republican candidates, and only registered Democrats can vote for one of the Democrat candidates.
If you are a registered voter affiliated with a minor political party, a registered Independent, or registered without party affiliation, you will vote in November, but not during this Primary Election.
Early voting dates are March 5th through March 12th, between 9:00 a.m. and 6:00 p.m. daily at all locations.  There are six early voting locations throughout St. Johns County.  Voters may cast their ballot at any of the locations, regardless of their home precinct.
Supervisor of Elections Office
4455 Avenue A, Suite 101
St. Augustine
Southeast Branch Library
6670 US 1 South
St. Augustine
St. Augustine Beach City Hall
2200 A1A South
St. Augustine
Julington Creek Annex
725 Flora Branch Blvd.
St Johns
Ponte Vedra Branch Library
101 Library Blvd.
Ponte Vedra Beach
Hastings Town Hall
6195 S Main Street
Hastings
Remember to take current and valid photo and signature identification with you when you vote, or you must vote a provisional ballot.
For more elections information visit www.votesjc.com or call 823-2238.
Share your thoughts with our readers >>