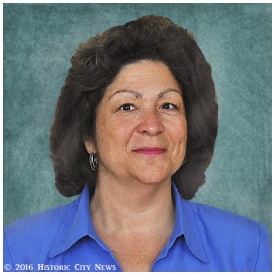 Supervisor of Elections for St Johns County, Vicky Oakes, told local Historic City News editor Michael Gold that she is predicting a 32% voter turnout when the ballots are counted Tuesday night at the close of the Primary Election.
Oakes says she is never ashamed to be wrong with her prediction — so long as the voter turnout is higher. She and her predecessor, Penny Halyburton, have been making an unofficial call on voter turnout with Historic City News for the past sixteen years.
Upon Halyburton's retirement in September 2011, Oakes was appointed Supervisor of Elections. She was elected to her first four-year term in 2012 and re-elected this year without opposition. Prior to her appointment, Vicky served as Assistant Supervisor for 23 years.
With about 13,700 voters who still have their vote-by-mail ballots in hand, Oakes offered a reminder that current postal standards for delivery of first class mail are 3-5 days.
"You must mail your ballot no later than today so it reaches the Elections Office by 7:00 PM on Election Day, August 30th," she said this morning. "If your ballot is late, it will not count."
If you see that you cannot mail back your ballot in time, the good news is that you have other options available:
Red mail ballot drop boxes available through August 30th. The drop boxes are available at all public libraries, St. Augustine Beach City Hall as well as the Ponte Vedra and Julington Creek Tax Offices during their regular business hours. They will be picked up on Election Day at 5:00 PM.
You may return your voted ballot to any of the six early voting sites during early voting or vote in person at your precinct on Election Day
There is a 24-hour absentee ballot drop box located in front of the Supervisor of Elections Office.
Early voting continues in St Johns County thru Saturday, August 27th. Hours are 9:00 AM – 6:00 PM daily at all locations: Julington Creek Annex, Ponte Vedra Branch Library, Supervisor of Elections Office, St. Augustine Beach City Hall, Southeast Branch Library, and Hastings Town Hall.
Share your thoughts with our readers >>