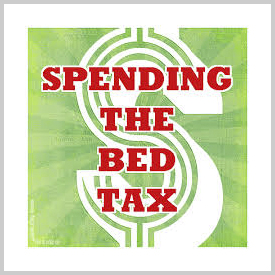 Each year, Historic City News reports on a gold rush, of sorts, sponsored by the St. Johns County Tourist Development Council. This year, 34 prospectors laid their claims to $847,666 in bed tax money to publicize and promote their programs to potential out-of-town visitors.
Members of the Arts, Culture and Heritage Division funding panel, who evaluate the applications from non-profit organizations seeking funding, include:
Danny Berenberg
John Graham
Michael Kleiman
Dan Sostrom
Karen Watts
Trudy Wild
Alternate: Shandra Studivant
Alternate: Meri Mass
Assigning scores independently from 1-100, the average score is used to rank applicants and determine what percentage of their request will be funded — subject to the blessings of the Tourist Development Council, and, ultimately the St Johns County Board of Commissioners.
| | | | | | | | | | | |
| --- | --- | --- | --- | --- | --- | --- | --- | --- | --- | --- |
| 2017 Grant Applications | A | B | C | D | E | F | G | H | Total | Average |
| St Augustine Lighthouse and Museum Marketing | 95 | 89 | 88 | 94 | 100 | 98 | 94 | — | 658 | 94 |
| St. Johns Chamber Ponte Vedra Auto Show | 99 | 90 | 88 | 98 | 99 | 88 | 92 | — | 654 | 93.4 |
| Lightner Museum ‐ Annual Marketing | 93 | 93 | 83 | 91 | 100 | 97 | 89 | — | 646 | 92.6 |
| Cultural Center Ponte Vedra Beach Arts Marketing | 95 | — | — | 90 | 100 | 91 | 76 | 94 | 546 | 92.5 |
| Lightner Museum Dressing Downton Program Promotion | 97 | 92 | 86 | 91 | 98 | 91 | 91 | — | 646 | 92.4 |
| Cultural Center of Ponte Vedra Beach  Home Art Tour | 88 | — | — | 90 | 98 | 88 | 96 | 94 | 554 | 92 |
| EMMA  Ukraine to Spain | 100 | 85 | 86 | 93 | 98 | 88 | 92 | — | 642 | 91.4 |
| Flagler College  Dialogue for the Next 50 Years | 87 | 86 | 86 | 90 | 98 | 97 | 95 | — | 639 | 91 |
| City of St Augustine Beach Blastoff | 92 | 85 | 86 | 96 | 100 | 92 | 88 | — | 639 | 90.8 |
| Romanza Celtic Festival | 94 | 95 | 86 | 85 | 100 | 91 | 88 | — | 639 | 90.8 |
| St Augustine Civic Association Music By The Sea | 90 | 90 | 83 | 90 | 100 | 92 | 91 | — | 636 | 90.6 |
| Cultural Center Ponte Vedra Beach Art Healing | 94 | — | — | 87 | 90 | 92 | 89 | 90 | 542 | 90.25 |
| St Augustine Film Festival | 63 | 93 | 83 | 87 | 100 | 92 | 95 | — | 613 | 90 |
| EPIC A Taste of St. Augustine | 83 | 77 | 88 | 91 | 98 | 97 | 90 | — | 624 | 89.8 |
| Cultural Center of Ponte Vedra Beach  Holiday Shoppes | 83 | — | — | 73 | 98 | 88 | 95 | 90 | 527 | 89 |
| Holy Trinity Church Greek Festival | 81 | 91 | 89 | 85 | 100 | 92 | 85 | — | 623 | 88.4 |
| Florida Literary Arts Coalition ‐Other Words Conference | 63 | 88 | 88 | 81 | 100 | 92 | 90 | — | 602 | 87.8 |
| Seminole Wars Historic Foundation Convocation | 69 | 88 | 84 | 89 | 100 | 86 | 89 | — | 605 | 87.2 |
| Florida Heritage Book Festival | 76 | 90 | 79 | 84 | 100 | 86 | 95 | — | 610 | 86.8 |
| Limelight Theatre Annual Marketing | 91 | 84 | 79 | 63 | 95 | 86 | 90 | — | 588 | 86 |
| Romanza Festival | 65 | 86 | 85 | 90 | 100 | 91 | 78 | — | 595 | 86 |
| St Augustine Historic Inns | 49 | 78 | 82 | 85 | 100 | 90 | 92 | — | 576 | 85.4 |
| St Augustine Art Association Art Festival | 68 | 88 | 82 | 84 | 98 | 86 | 85 | — | 591 | 85 |
| Limelight Theatre ‐25th Anniversary Season | 56 | 88 | 87 | 67 | 94 | 87 | 90 | — | 569 | 83.8 |
| Cultural Center of Ponte Vedra Beach Crushed | 69 | — | — | 76 | 96 | 88 | 88 | 78 | 495 | 82.5 |
| Historic Florida Militia ‐ Searle's Sack and Drakes Raid | 56 | 75 | 81 | 77 | 99 | 91 | 86 | — | 565 | 82 |
| Romanza  ‐ St  Patrick's Parade | 21 | 82 | 82 | 81 | 85 | 92 | 68 | — | 511 | 79.6 |
| Historic Florida Militia ‐ Changing of the Guard | 57 | 75 | 80 | 70 | 99 | 90 | 82 | — | 553 | 79.4 |
| Regatta of Lights and Blessing of the Fleet | 48 | 72 | 77 | 70 | 95 | 88 | 89 | — | 539 | 79.2 |
| Art Association  Nature & Wildlife Exhibition | 61 | 83 | 75 | 59 | 92 | 87 | 86 | — | 543 | 78.4 |
| St Augustine Easter Week Festival | 56 | 54 | 78 | 81 | 99 | 87 | 88 | — | 543 | 78 |
| SEA Community 5th Annual Rails to Trails Festival | 51 | 72 | 80 | 75 | 85 | 83 | 69 | — | 515 | 75.8 |
| SEA Community Gullah Geechee Tour | 27 | 81 | 73 | 69 | 95 | 80 | 73 | — | 498 | 75.2 |
| Ray Charles Band and Jazz Festival | 24 | 34 | 70 | 56 | 80 | 60 | 70 | — | 394 | 58 |
Share your thoughts with our readers >>