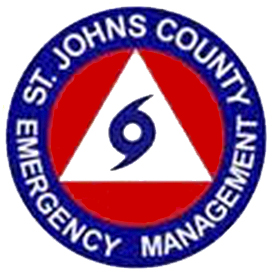 Historic City News has received the 12:00 NOON update from the St Johns County Emergency Management Office concerning the areas weather conditions and short-term forecast.
Tropical Depression Nine is located about 415 miles west-southwest of Tampa and is stationary with maximum sustained winds of 35 mph. A north-northeastward motion is expected to begin later today, and a turn toward the northeast with increasing forward speed is expected on Thursday.
On the current forecast track, the center of the tropical depression will approach the northwest Florida coast Thursday evening.
Rain chances will increase with the potential for locally heavy rainfall and gusty winds in squalls late Thursday through Friday as the system moves across the Florida peninsula. Rainfall totals of 4- 6 inches are possible for St. Johns County.
Potential Local Impacts:
A moderate risk of rip currents through Thursday, a high risk of rip currents beginning Friday.
Locally heavy rainfall will be possible Thursday – Friday across portions of north Florida.
If you have experienced storm tide flooding problems from past tropical storm events you will likely experience flooding again with this storm.
Isolated tornadoes possible late Thursday through early Friday.
Deteriorating marine conditions over the adjacent Atlantic waters late Thursday – Friday.
St. Johns County is under a Tropical Storm Watch. A Tropical Storm Watch means that tropical storm conditions are possible within the watch area, generally within 48 hours.
Florida State EOC is activated to a Level 2.
Today's Weather: A chance of showers, with thunderstorms possible after 1pm. Cloudy, with a high near 86. Southwest wind around 10 mph. Chance of precipitation is 50%.
Tonight's Weather: Showers likely, with thunderstorms also possible after 5am. Cloudy, with a low around 74. South wind 10 to 13 mph. Chance of precipitation is 60%.
Tomorrow's Weather: Showers and possibly a thunderstorm. Some of the storms could produce heavy rainfall. High near 86. South wind around 11 mph. Chance of precipitation is 80%.
Share your thoughts with our readers >>