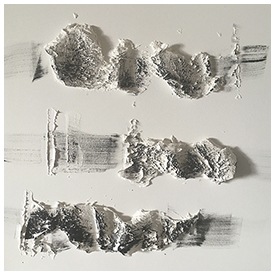 Graduating Arts students at Flagler College will be showcasing their artwork between December 8 – 10 at the Crisp-Ellert Art Museum, as part of a bi-annual exhibition according to an announcement received by Historic City News today.
This semester's Bachelor of Fine Arts portfolio students are led by Professor Patrick Moser, and the Bachelor of Art portfolio class is led by Associate Professor Leslie Robison.
The exhibition will include a joint compound and acrylic on canvas, titled "Inside the Lines, 2016" by Bachelor of Fine Arts candidate Liz Burris.
Other Bachelor of Fine Arts student works include painting, printmaking, sculpture, and mixed media, exhibited by Anthony Cerino, Ashley DeLoach-Torres, Matthew Dolby, Van Eggers, Mary Beth Hietapelto, Key Russell and Ellie Wools.
Bachelor of Art candidates exhibiting include Victoria Balliew, Conor Bouchard, Kinsey Cox, Nicholas Droleski, Grace Folts, Savanna Jones, Austin Markis, Joseph Provenza, Mary Ross, Lea Scarangella, Nicki Smith, Monica Stauffer and Maria Toto.
Admission to the exhibition is free of charge and open to the public.
An opening reception for the artists will be held on Thursday, December 8th from 5:00 p.m. to 8:00 p.m. The museum exhibit will be open on Friday, December 9th from 10:00 a.m to 4:00 p.m. and Saturday, December 10th from 11:00 a.m. until 1:00 p.m.
Share your thoughts with our readers >>