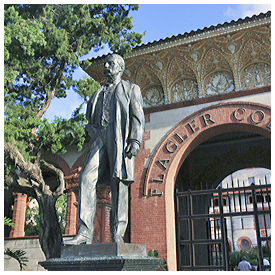 Flagler College's Adult and Continuing Education program will offer test preparation courses for the GRE, LSAT, GMAT and SAT standardized exams beginning in June.
The college's test preparation courses are designed by Educational Testing Consultants, a team of exam question writers and test preparation experts
"Standardized test scores on exams such as the GRE, GMAT and LSAT are a major component of the graduate school application process, and this new program will assist students in completing the exams with success," said Dr. Jorge Herrera, director of Adult and Continuing Education.
Experienced instructors will provide the comprehensive program in an easy-to-follow format. The courses include classroom instruction, preparation materials, practice test opportunities, computer-adaptive software and access to the instructors beyond the classroom experience.
The GRE prep course begins June 6 and continues on Mondays and Wednesdays, from 6:00 p.m. to 9:00 p.m., through June 29th, 2016. The Summer SAT Institute course begins August 1, from 9:00 a.m. to 3:00 p.m. and continues throughout the week until Thursday, August 4. Live online prep courses for GRE, LSAT, and GMAT will also be offered.
Share your thoughts with our readers >>