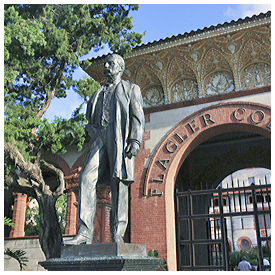 The Southern Association of Colleges and Schools, the recognized regional accrediting body for degree-granting higher education institutions in the South, has granted Flagler College in St Augustine the necessary approval to offer a new degree program in Hospitality and Tourism Management.
Historic City News learned that the local college crossed this final hurdle recently when they announced that the first courses will begin to be offered this Fall.
"Tourism has long been a driving force in the economy of the state of Florida," Sport Management Department Chair Dr. Calvin Hunter said. "The need for qualified individuals to manage hotels, resorts and the like are good reasons for students to choose the new major."
Graduates with this major will be prepared for entry-level professional positions in guest services management, theme park and attraction management, tourism management, event planning and food services management, and will have the foundation for more senior management positions as their careers advance.
To complete the 62-credit major, a student will earn 32 credit hours in Hospitality and Tourism Management courses, along with 12 hours of core courses in Business Administration, eight hours in a foreign language, six hours in selected liberal arts courses, four hours in Sport Management and 120 apprenticeship hours in the hospitality industry.
The Hospitality and Tourism Management major had been approved by the college's Faculty Senate and Board of Trustees last spring, and was awaiting approval from the accrediting board.
Share your thoughts with our readers >>