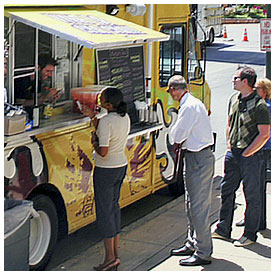 Why should well-heeled restaurateurs be allowed to use local government to run their competitors out of business? Shouldn't the marketplace decide whether or not patrons choose to grab something quick to eat at a food truck, or sit down to eat in a traditional brick-and-mortar restaurant?
We have seen that tactic used by the City of St Augustine Beach and the City of St Augustine; but, between now and April 9th, St Johns County is asking the public how they feel about the controversial option.
Linked from the County's website is a thirteen-question online survey that starts by asking how you feel about allowing year-round food trucks in St Johns County at all.
The types of mobile food vendors referenced in this survey are limited to mobile food carts, mobile food trailers, and mobile food trucks.
These vendors will not be connected to public water or sewer, and are generally located in public areas or on private property. The results of this survey are essential to the development of potential regulations regarding mobile food vendor operations in St Johns County.
The survey will provide you with a voice in this process and offer County staff valuable feedback. Once the survey is complete, county staff will review and compile all feedback and incorporate it into the process of creating regulation for mobile food truck vendors within St. Johns County.
The survey results and any proposed regulation will be presented to the Board of County Commissioners for their consideration in future meetings.
TAKE THE 13-QUESTION SURVEY BY CLICKING THIS LINK.
Share your thoughts with our readers >>