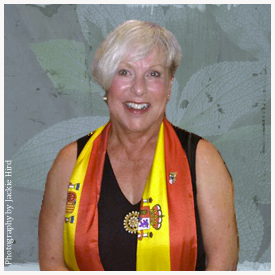 Guest Column: The importance of mobility in St Augustine
Nancy E. Shaver, Mayor
City of St Augustine, FL
Dear Historic City News readers:
It's no secret that we are a popular place and getting around in our City is often a challenge.  Whether it's the couple of million vacation visitors we have every year, or you and I going grocery shopping, or the many folks from St. Johns County and Jacksonville who come here for the day or the evening or for one of our many events–it's a lot of people in cars—likely six million annually—and growing.
So just what is "mobility"?  It's a word urban planners use to talk about one simple (or maybe not so simple) measure of livability in a city.   Mobility just refers to the ease of  getting around—whether it be by vehicle, bicycle, or foot—and in our case that could  mean, horse carriages, taxis, scooters, Segways, golf carts, trolleys, or pedi-cabs.
What is the City doing about improving mobility?
First—it's not a new problem, and we've had lots of studies, but they have been targeted at a specific area –like the area at the City side of the Bridge of Lions or improved traffic timing or truck loading zones and times, and the approval of the May Street /San Marco project.  We have also had a Parking and Traffic committee that helped make some progress.  And a few months ago, we had a workshop so we could all understand all the types of vehicles we have on our street—and what our current regulations are.
So what's different now?  When the budget was passed last October—the City Commission gave the City Manager two priorities, based on the Vision and Strategic Plan—and your very clear message about what is important to you, whether you are a business or a resident.
Build a solution to our mobility challenges
Accelerate work on our infrastructure backlog
We've recognized that a piecemeal approach to mobility doesn't get us very far—and that there is no simple or easy fix, so here's what we've done.
We issued an RFP to engage expert mobility resources to do two things—
Create a long term plan grounded in proven best practices that addresses our unique challenges as a small historic City, surrounded by a rapidly growing county, and hosting millions of visitors
Deliver "early wins" that will offer quick improvements.
We now have a city staff person focused solely on mobility.  (An earlier hire left the organization so we lost some time).  This staffer will work with the expert resource, city staff and residents and businesses to ensure we move smoothly and as rapidly as possible.
How can you help?
First, every person in this City, and every Commissioner, and our local newspaper has an idea or two about how to solve congestion.  And we need to hear those ideas (recognizing that they may not all be workable, effective or practical—underscoring our need for expert help.)
Here are two examples from my quick win list:
Explore one-way street grids on a neighborhood by neighborhood basis
Pilot pedestrian only on Hypolita and Aviles Streets
I don't know if these ideas—or any of my others will make the cut—but I do know that the more people who weigh in the better our solutions will be.  I'd like to hear what you think so we can add them to the list for consideration.  So please send me an e-mail with your thoughts mayor@nancyshaver.com.
With your help and participation (and patience), we can make real progress.
Share your thoughts with our readers >>