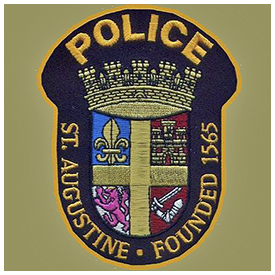 Each weekday, Historic City News publishes a summary of calls handled by the St Augustine Police Department. The information contained in this report is taken from sources deemed reliable; the accuracy and completeness of which Historic City News does not control and cannot guarantee.
The original public records are on file with the St Augustine Police Department and should be consulted before taking any action.
August 11, 2016
16-25335 – While on routine patrol in Pomar Park, Officer Kevin Carroll observed four people "hanging out" near their car. While the officer attempted to identify them, one of the subjects, 35-year-old Anthony M. Foxx, repeatedly gave the officer a false name. At the end of his investigation Officer Carroll arrested Foxx for giving a false name to police and violation of probation for driving while license suspended.
16-25355 – 236 San Marco Ave. Owner reported her bannister had been damaged ($400), there are no witnesses or suspects.
16-25362 – 111 Avenida Menendez, petit theft, $82 of personal property. Investigation continues.
16-25394 – 1750 US-1 South, retail theft, $35.91. Richard E. Dennison, W/M, 37, homeless was observed taking three items from the business without paying for them. He was arrested and transported to the county jail.
16-25415 – 317 Flagler Blvd, Theft from Vehicle, $330 worth of personal property. There are no witnesses or suspects.
August 12, 2016
16-25574 – Victim reported to officers that someone had broken into his trailer while it was parked at 231 San Marco Ave. Later the victim called to report that he located the person who had committed the theft. Officers arrived and spoke with Jonathan W. Hicks, W/M, 32, homeless, and the victim; who was able to identify his belongings. Hicks retrieved additional property taken during the automobile burglary and was arrested.
16-25591 – No Name Bar, simple battery. Carl B. Broadway, W/M, 31, Virginia Beach, Va. was arrested for simple battery when he struck another patron while they were waiting in line to use the restroom. He was transported to the county jail.
Share your thoughts with our readers >>