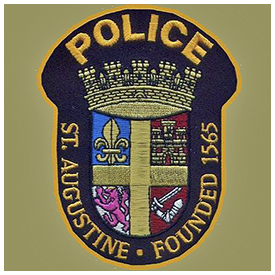 Each weekday, Historic City News publishes a summary of calls handled by the St Augustine Police Department. The information contained in this report is taken from sources deemed reliable; the accuracy and completeness of which Historic City News does not control and cannot guarantee.
The original public records are on file with the St Augustine Police Department and should be consulted before taking any action.
August 16, 2016
16-25616 – 259 San Marco Ave. Burglary, Cash and cash drawers are missing, investigation is continuing.
16-25620 – Traffic Stop/ Out of County Warrant, Dwayne T. Williams, B/M, 43, Palatka was arrested on a warrant after a traffic stop.
16-25691 – 150 SR 207, Theft, 2 four packs of beer taken from the Dollar General, $8.50 in beer was recovered from Charles H. Marshall Jr. homeless, 48. He was arrested and booked at the county jail.
16-25737 -14 W. Castillo, officers dispatched to a prowler in the area, once they arrived they found Austin Eger, 19, homeless hiding behind the business at 4:02 am. While trying to arrest Eger, he resisted the officers and was also charged with resisting w/o violence.
16-25853 – Masters Drive, Domestic Battery and Tampering with a witness or victim. Vernon L. Odom, 32, St. Augustine.
136 King Street, Theft of a $150 Black and gray Giant Sedona bicycle. No witnesses or suspects.
16-25936 – 800 S. Ponce Blvd. Theft of 3 cartons of Newport Cigarettes. Valued at $180.87. Suspect described as a black male, no other description available.
16-26025 – Fraud, victim reported getting a phone call from a person posing as an employee of Citi Bank. The victim did give personal information to the caller as it sounded professional. Shortly Citi Bank called her and told her because of possible fraud they froze her account with them. Nothing appeared to have cleared her account.
16-26030 – Downtown Plaza, Disorderly Conduct, Landy G. Johnson, 49, homeless, w/m, was arrested for disorderly conduct as several people were walking in the area and observed his behavior.
16-26065 – 3551 N Ponce Blvd. Aggravated Assault, Evan J. Artz, W/M, 36, St. Augustine was arrested for Aggravated Assault for pulling out a 12 Ga. Shotgun out of his truck. The victim felt Artz was going to shoot him. Officers located the shotgun; it was unloaded when they found it in a case in his truck.
16-26075 – 20 Cuna Street, Simple Battery, Kevin G. Atehortua W/M, 27, Fortuna Av. Victim and witnesses stated that Atehortua ran his hand up the victims dress and grabbed buttocks. He was arrested and taken to the county jail.
August 18, 2016
16-26106 – 42 Palmer Street, Burglary, Grand Theft. The investigation revealed that Justin W. Osteen, W/M, 30, Bayhawk Dr. broken into Taylor Painting and stole a pressure washer, 4 hoses and 2 surface cleaners. A charging affidavit was completed on Osteen and forwarded to the State Attorney's Office.
16-26134 – Carrera Street, Grand Theft, the victim reported that someone had taken 3 skim boards valued at $1275 from a common area in the rental property where he lived. There are no witnesses or suspects.
16-26223 – 16 Avenida Menendez, Burglary and Theft, The night auditor left the office to make his rounds around the hotel property, upon his return he found the cash box broken and cash missing from the drawer. Video showed a B/M entering the office and breaking into the cash drawer and leaving before the night auditor returned.
16-26235 – 1750 US 1 South, Theft, Video shows the victim left her wallet at a cash register. It was taken by another woman who did not have permission to take the wallet; she exited the store and drove off. The suspect on video is not known to the employees of the Home Depot.
August 19, 2016
16-25516 – Solana Road, Criminal Mischief, Victim reported that when she parked her car it was fine, when she went out this morning she found the back glass broken out and scratches on her rear bumper. There are no witnesses or suspects.
16-26331 – Kingsferry Way, Criminal Mischief, Victim reported that the rear passenger window was broken out overnight. There are no witnesses or suspects.
16-26333 – 1010South Ponce Blvd. Grand Theft, Amason's Sanitation reported that their Port-a-Jon was taken from a construction site on the north side of Winn Dixie. They value the unit at $600.
16-26347 – St. George and Hypolita Streets, Disorderly Conduct and Resisting Arrest without Violence. Bradley R. Benjamin, 49, W/M, Homeless was arrested for on a Disorderly Conduct charge and while being arrested, resisted that arrest. He was transported to the county jail without incident.
16-26385 – Gibbs Park, west end of Bridge of Lions, Battery, Kirstie Lee McLaughlin, W/F, 37, Homeless. Was observed by an officer and eyewitness hitting her longtime boyfriend in the face. Arrested for Battery and transported to the county jail without incident.
16-26409 – 66 Hypolita Street, Disorderly Intoxication, Xavier S. Gordon, 22, B/M, Paloma Point was arrested for Disorderly Intoxication for arguing and fighting with a bouncer from Dos Gatos. He was transported to the county jail without incident.
Share your thoughts with our readers >>