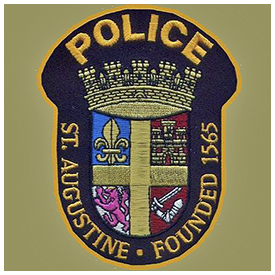 Each weekday, Historic City News publishes a summary of calls handled by the St Augustine Police Department. The information contained in this report is taken from sources deemed reliable; the accuracy and completeness of which Historic City News does not control and cannot guarantee.
The original public records are on file with the St Augustine Police Department and should be consulted before taking any action.
July 11, 2016
16-21800 – An employee of Harry's Seafood reported that someone took $370 out of her wallet while she was on the floor waiting tables. There are no witnesses or suspects at this time.
16-21802 – Marcus Thompson, attorney for two victims of Grand Theft reported that Ryan Sheckles, owner of Davinci Fine Art Consulting Inc. has not returned two pieces of art or returned his phone calls. Thompson is requesting that the police investigate this as a theft. Investigation continues.
16-21813 – The owner of "Seems like Old Times" Barbers Shop reported their business sign missing off of the side of their building, they value the sign at $150.
16-21893 – Jacob Tucker, a 26-year-old black man who resides on John Glen Drive, was arrested for drinking "Bud Ice" beer in public.
16-21958 – A Pomar Street resident reported that someone slashed her tire over the weekend; there are no suspects or witnesses.
16-21970 – Larry Mattox, a 44-year-old homeless black man was arrested for drinking an alcoholic beverage in the plaza.
16-21973 – Keith Fellows, a 59-year-old homeless white man was arrested for drinking an alcoholic beverage in the plaza.
David E. Howell, a 43-year-old white man who resides in Palatka, was arrested for DUI, after he registered .170 and .173 during a breathalyzer test.
16-22025 – A victim reported that someone cut the convertible top of her personal vehicle causing $500 in damage, missing was a $10 box of electrical car fuses.
July 18, 2016
16-22593 – A wooden sign, property of the City of St Augustine, was stolen from the corner of Cuna and St. George Streets, valued at $200.
16-22693 – A male victim reported to police that as he walked on St George Street, he was attacked by an unknown assailant. According to the incident report, the victim's eye was swollen, his nose was bleeding; however, he refused any emergency medical help. No witnesses or suspects.
16-22785 – The victim reported someone stealing his unsecured Schwinn Bicycle valued at $100, gray in color. It was parked in front of the business.
16-22810 – When 21-year-old Keegan Edward Downey, who resides on Sea Place Avenue, and 23-year-old John William Atkinson, who resides on East Ocean Woods Drive, had been drinking and became disorderly, then refused to follow a patrolman's directions, they were charged with public intoxication and taken to the St Johns County Detention Facility.
Share your thoughts with our readers >>