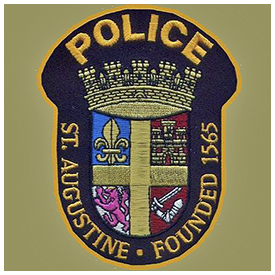 Each weekday, Historic City News publishes a summary of calls handled by the St Augustine Police Department. The information contained in this report is taken from sources deemed reliable; the accuracy and completeness of which Historic City News does not control and cannot guarantee.
The original public records are on file with the St Augustine Police Department and should be consulted before taking any action.
July 20, 2016
16- 22935 – Theft of highway cones, $500 from May Street and Magnolia Street.
16-22947 – Theft of a cement mixer, $1200, a contractor at 1 Dolphin Drive. No witnesses or suspects.
16-22964 – Vandalism, $400 damage to a wall that was spray painted Blue and Gold, No witnesses or suspects.
16-22967 – Stolen tag from a scooter that was parked at 125 King Street. Tag # MAZZ98 put into NICIC/FCIC.
16-22975 – Stolen Hat, $29, from the Panama Hat Company. The officer was able to locate the suspect and arrested him for petit theft. Austin T. Clark, 22, w/m, Snellville, Ga.
16-22976 – Trespass arrest and auto burglary arrest, Cheryl Ann Kachmar, w/f, 60, homeless. Kachmar was arrested at the St. Francis House for trespassing, during a search incident to arrest officers found a wallet with a different name. That person was called and had no idea that her car had been broken into. Upon the victim searching her car she found her wallet missing. Because Kachmar was in constructive possession of the victim's wallet she was charged with Burglary as well.
1622989 – Davis A. Drinnon, 31, w/m, St. Augustine. Arrested and charged WITH Resisting with violence, theft and Criminal mischief. Drinnon stole a metal parking sign and pole and was beating another sign with it causing damage to it. While attempting to subdue him, he attempted to prevent the first officer from using his radio and continued to fight with officers even as more police officers arrived to assist.
16-23021 –Rebekah D. Latham, w/f, 36, Lion's Gate was arrested on a warrant from St. Johns County.
16-23004 – Theft of a blue Genesis bicycle valued at $100. Victim signed a criminal complaint for theft against Michael L. Sparks, w/m, 50, homeless.
16-23076 – Melissa Alison Ryan, w/f, 33, St. Augustine was arrested for Domestic Battery and violation of probation.
July 22, 2016
16-23213 – Victim reported a theft from his car that was left unlocked at the YMCA. He parked it there and went for a run, an hour and a half later he returned to find his brief case missing with $9310 of equipment inside of it gone.
16-23219 – Theft from a car on Davis Street, the victim reported her laundry basket with clothes missing, she valued the clothes at $180. She says her car was left unlocked.
16-23252 – Domestic Battery reported at the Knights Inn, Justin and Devon Overbee, St. Augustine, were both arrested for battering each other.
16-23262 – Grand Theft Auto, Victim lives on Cordova St. she reported walking to a local bank and withdrawing some money and spending the evening at a local drinking establishment. Arriving home at about 2:30 am the next morning she realized she did not have her keys with her and her car was missing. It has been entered into NCIC/FCIC as stolen.
16-23331 – Kevin Bragdon, 52, w/m, St. Augustine was arrested by SAPD for DUI after SAFD observed him crash his scooter, Bragdon refused to cooperate with officers at the hospital and when cleared by staff was transported to the county jail.
Share your thoughts with our readers >>