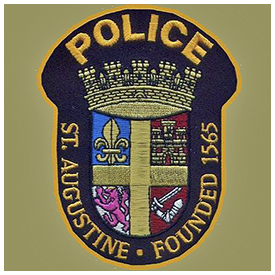 Each weekday, Historic City News publishes a summary of calls handled by the St Augustine Police Department. The information contained in this report is taken from sources deemed reliable; the accuracy and completeness of which Historic City News does not control and cannot guarantee.
The original public records are on file with the St Augustine Police Department and should be consulted before taking any action.
July 6, 2016
16-211191 – Eric Pierce, 27, white male St Augustine was charged with a City Ordinance violation of jumping off of the Bridge of Lions. Officers from SAPD, SAFD, SJSO, Fire and Rescue and the United States Coast Guard all responded to assist in locating Pierce who was found to be hugging a pylon under the bridge. He has several lacerations on his arms.
16-21194 – Cynthia Justice, white female, 31, St Augustine was arrested after she battered a store clerk working at Carmelo's Marketplace on King Street. The attack was captured on surveillance cameras installed at the store.
16-21124 – A family camping at the Anastasia State Park reported one of the bikes were stolen over the night. It was a Black/white and red mountain bike, no witnesses or suspects.
16-21286 – Curtis Jones Jr., 32, black male, Woodcrest Apartments was arrested during a traffic stop for excessive dark tint on the windows of his automobile. Officers observed Jones throw half of a marijuana cigarette from his window. A computer check revealed that Jones had an outstanding writ of bodily attachment from Putnam County.
16-21384 – Jaston Womack, black male, 22, of Colee St was arrested for petit theft. After his arrest he needed to go to Flagler ER to get stitches in his forehead for banging his head on the Plexiglas screen.
16-21392 – Thomas Detton, 20, white male from Manucy Road was observed by an officer carrying a city sign down the Bayfront. When approached, he started running from the officer. He was eventually caught in the Treasury parking lot on Charlotte St He was arrested for theft, obstruction of the case and resisting arrest without violence.
While several officers were arresting Detton, Drew M. Jamin, 21, white male Virginia Beach, Va. Came up behind the officers and failed to stop advancing forward when ordered not to do so and was arrested for an open container and resisting without violence.
When two sisters, Alicyna Cunillera, 23, white female, Islander Drive and Tiffany A. Cunillera, 29, white female from Fleming Island, showed up causing a disturbance and refusing to obey officers, they were charged with obstruction and resisting w/o violence.
16-21419 – A victim of Criminal Mischief on Flagler Blvd. reported someone had damaged her 1990 Nissan totaling $2000. The windshield was broken in, the roof racks were damaged, and both taillights were broken. Officers were able to collect evidence to send to the lab for comparison.
16-21433 – The victim of a theft reported his bike was stolen after he secured it to a power guideline. It is a silver Giant, Cypress road bike valued $340, and it was entered into NCIC/FCIC.
16-21438 – The victim of a motor vehicle theft reported that she parked her 2008 black GMC Acadia (Fl. 222-IYD) in front of her Rhode Ave. Home. It was gone the next day. The vehicle was entered into NCIC/FCIC.
16-21443 – A victim that lives on Lee Road reported someone has gone through his work truck on three different occasions, this time taking 3 Makita Power Drill (24 Volt), 10 Purdy Paintbrushes and two packs of cigarettes.
16-21504 – Christopher T. Millican, 30, white male Arrendondo Ave. was arrested after being stopped for speeding. Found in his possession was a small amount of cocaine. He was also charged with violation of probation.
16-21551 – A victim of a theft reported their bike was taken from their Comares Ave. home. He described the bike as an older yellow Boss Beach Cruiser valued at $50.
Mich Oja-Dunaway. 30, black male N. Matanzas Av. was arrested for Felony Domestic Battery on someone older than 65.
16-21565 – Michael G. Harrington was arrested on an open warrant, transported to the county jail without incident.
Share your thoughts with our readers >>