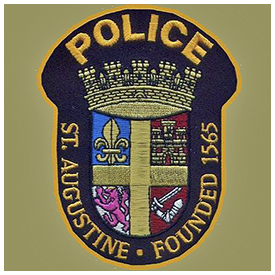 Each weekday, Historic City News publishes a summary of calls handled by the St Augustine Police Department. The information contained in this report is taken from sources deemed reliable; the accuracy and completeness of which Historic City News does not control and cannot guarantee.
The original public records are on file with the St Augustine Police Department and should be consulted before taking any action.
July 07, 2016
16-21550 – Christopher Reed, W/M, 25 from Francis St. was arrested on an open St Johns County warrant. He was hand cuffed and transported to the county jail without incident.
16-21597 – The victim reported that he left his Ford ranger truck parked in his parking lot at work. Overnight someone appeared to have walked on the hood of his truck causing $800 in damage. There are no witnesses or suspects at this time.
16-21599 – The victim reported he placed his black colored I-Phone 6, on the roof of his car while he changed shirts. He left to go to work, then realized that he had forgotten his phone. When he returned, he found that the phone was missing. He could not provide a serial number at this time; he valued the phone at $500.
16-21621- An officer, while on foot patrol in the plaza, observed Travis A. Johnson-Wynn sitting on a park bench next to a cold can of beer. Johnson-Wynn was charged with possession of an open container of alcoholic beverage, arrested, and transported to the county jail without incident.
July 08, 2016
16-21773 – An officer on patrol observed and stopped a vehicle driving erratically on South Ponce de Leon Boulevard. The driver, Krista J. Paul, consented to a breathalyzer test which indicated that her blood alcohol level was .198 and .191. She was arrested for DUI and booked into the county jail.
Share your thoughts with our readers >>