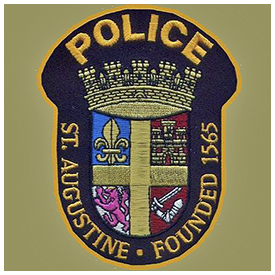 Each weekday, Historic City News publishes a summary of calls handled by the St Augustine Police Department.  The information contained in this report is taken from sources deemed reliable; the accuracy and completeness of which Historic City News does not control and cannot guarantee.
The original public records are on file with the St Augustine Police Department and should be consulted before taking any action.
16-18253 A City Fire Fighter reported having damage to his 2012 Kia that occurred during T/S Colin Monday night.
16-18269 Theft from an unlocked vehicle $8 in cash and a $25 Gift Card were taken. No witnesses or suspects.
16-18285 Management at Los Palmas reported someone broke the walk gate leading into the pool area. Estimated damage; $800.
16-18299 Theft from a city work truck. An employee while working in a storm drain took off his jewelry leaving it in the work truck, valued at $2000. No witnesses or suspects.
16-18312 Theft of a wallet containing $400 in cash. No witnesses or suspects.
Karley R. Faver, 23, W/F Moultrie Place was arrested for Domestic Battery.
Share your thoughts with our readers >>