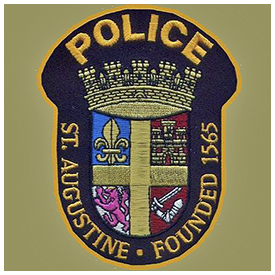 Each weekday, Historic City News publishes a summary of calls handled by the St Augustine Police Department. The information contained in this report is taken from sources deemed reliable; the accuracy and completeness of which Historic City News does not control and cannot guarantee.
The original public records are on file with the St Augustine Police Department and should be consulted before taking any action.
16-18480 – The theft of a 16-foot open construction trailer was reported.
16-18616 – A party guest reported to police that he was the victim of theft when he discovered that his wallet and its contents were missing and believed stolen. There were no witnesses or suspects identified.
16-18627 – A Marion County arrest warrant for violation of probation was served by St Augustine Police against 30-year-old Theron Taylor. The white male stated to officers that he is homeless.
16-18717 – A husband and wife were engaged in a domestic disturbance at the Hilton Hotel. Officers were called to the scene when the conflict escalated. The husband was arrested for simple battery.
16-18725 – Officer Wayne Ferrell arrested a man for possession of less than 20 grams of marijuana after he found the man passed out behind the wheel of his truck.
16-18829 – Two 17-year-old juvenile males reported to police that they were assaulted by five older white males riding in a grey Toyota. One of the five pulled a "black Glock .45 caliber pistol" according to the incident report. Both teen males said they were in fear of their harassers.
16-18830 – Police received a disturbance call reporting four friends who had been drinking, were intoxicated and were fighting. All were separated for the night and no charges were filed.
Share your thoughts with our readers >>