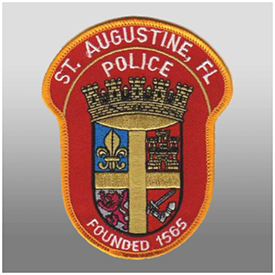 Each weekday, Historic City News publishes a summary of calls handled by the St Augustine Police Department. The information contained in this report is taken from sources deemed reliable; the accuracy and completeness of which Historic City News does not control and cannot guarantee.
The original public records are on file with the St Augustine Police Department and should be consulted before taking any action.
Officers made contact with a victim of a Criminal Mischief on Plaza Del Rio Dr. The victim reported that sometime during night broke a door handle on her car; she valued the damage at $500. 16-17586
An officer patrolling North Davis Shores came across a stop sign that had been spray painted with gray paint spelling out the word "war". 16-17598
Theron A Rasmus was arrested at the No Name Bar for Defrauding an
Inn Keeper. He and Tennie Parks ran up a tab of $36 and had no means to pay the bill. When the arresting officer reported the incident, he learned that a "no contact" order was in place ordering Rasmus not to be in the presence of Parks. Both parties were issued warnings not to return to the No Name Bar and Rasmus was also charged with violating a court order.
Share your thoughts with our readers >>